Analysis Of Factors Related To Posyandu Activity In The Covid-19 Era In Pematang Pelintahan Village
Nurhamida Fithri

STIKes Senior Medan
Keywords:
Anxiety, Family Support, Posyandu, The Covid-19 Pandemic
Abstract
During the Covid-19 pandemic, the social conditions of the community connected with health services for infants and toddlers, including posyandu activities. The routine implementation of the posyandu is neglected, including monitoring the growth and development of infants and toddlers and immunization coverage. This is because all services and health are focused on Covid-19. The initial survey conducted in Pelintahan Village, there were 9 posyandu and there was a decline in the implementation of the posyandu program during the Covid-19 pandemic. In addition, the report on immunization coverage also appears to be decreasing. To analyze the factors that relate to the activity of posyandu in the Covid-19 era in Pelintahan Village in 2021. This study used an analytical research design using a cross sectional approach. The population in this study were all mothers who have toddlers in Pelintahan Village as many as 59 people. The sample size in this study used the accidental sampling technique. The sample was taken when posyandu activities in Pelintahan Village took place during the time the research took place and amounted to 36 people. Data analysis in this study used the chi-square statistical test. The results of the study found that there was a significant relationship between maternal anxiety and family support for posyandu activities in the Covid-19 era in Pelintahan Village in 2021 with each p-value of 0.00 (p-value <0.05). From the results of this study, it is expected that health workers can provide health education to mothers and families who have babies and toddlers providing health promotion, counseling and counseling related to safe posyandu during the Covid-19 pandemic.
Downloads
Download data is not yet available.
References
Aritonang, J, Nugreny, L,. (2020). Peningkatan Pemahaman Kesehatan pada Ibu Hamil dalam Upaya Pencegahan Covid-19. Jurnal Solma. http://dx.doi.org/10.22236/solma.v9i2.5522
Diharja, N., et all., (2020). Pengaruh Pandemi Covid-19 Terhadap Kunjungan Imunisasi di Posyandu Desa Tanjungwangi. Asian Research Midwifery and Basic Science Journal. https://doi.org/10.37160/arimbi.v1i1.587
Direktorat Promosi Kesehatan dan Pemberdayaan Masyarakat Kemenkes RI. (2019). Panduan Lokakarya Kader Posyandu. In Kementerian Kesehatan RI.
Direktur Jenderal Pencegahan dan Pengendalian Penyakit Kemenkes RI. (2020). Petunjuk Teknis Pelayanan Imunisasi Pada Masa Pandemi COVID-19. Kementerian Kesehatan Indonesia.
Juwita, D. R. (2020). Makna Posyandu Sebagai Sarana Pembelajaran Non Formal Di Masa Pandemic Covid 19. Meretas: Jurnal Ilmu Pendidikan.
Qiftiyah, M. (2018). Gambaran faktor status pekerjaan, pendidikan dan dukungan keluarga terhadap kunjungan posyandu balita usia 0-5 tahun di posyandu pepaya dukuh karangrejo desa tegalrejo kecamatan merakurak kabupaten tuban. Jurnal kebidanan. https://doi.org/10.30736/midpro.v9i2.20
Rinaldi,M., Yuniasanti, R., (2020). Kecemasan pada Masyarakat Saat Masa Pandemi Covid-19 di Indonesia. Jurnal Covid-19 dalam Ragam Tinjauan Perspektif.
https://scholar.google.co.id/citations?user=Az5GgGoAAAAJ&hl=id
Saepuddin, E., Rizal, E., & Rusmana, A. (2018). Posyandu Roles as Mothers and Child Health Information Center. Record and Library Journal. https://doi.org/10.20473/rlj.v3-i2.2017.201-208
Sari, R. P., & Utami, U. (2020). Studi Analisis Tingkat Kecemasan Dengan Kepatuhan Kunjungan Posyandu Di Masa Pandemi Covid 19. Jurnal Ilmiah Maternal.
Sriarumtias, F. F., Andeani, R. F., Rosita, N., & Ardian, F. (2020). Pemberdayaan serta Penerapan Protokol Kesehatan di Posyandu Puskesmas Leuwigoong Kabupaten Garut , Jawa Barat Sebagai Upaya Mencegah Penularan COVID-19. JURPIKAT (Jurnal Pengabdian Kepada Masyarakat).
Yurianto, Ahmad, Bambang Wibowo, K. P. (2020). Pedoman Pencegahan Dan Pengendalian Coronavirus Disease (Covid-19) (M. I. Listiana Azizah, Adistikah Aqmarina (ed.)
https://edukatif.org/index.php/edukatif/index
Zhong, B. L., Luo, W., Li, H. M., Zhang, Q. Q., Liu, X. G., Li, W. T., & Li, Y. (2020). Knowledge, attitudes, and practices towards COVID-19 among chinese residents during the rapid rise period of the COVID-19 outbreak: A quick online cross-sectional survey. International Journal of Biological Sciences. https://doi.org/10.7150/ijbs.45221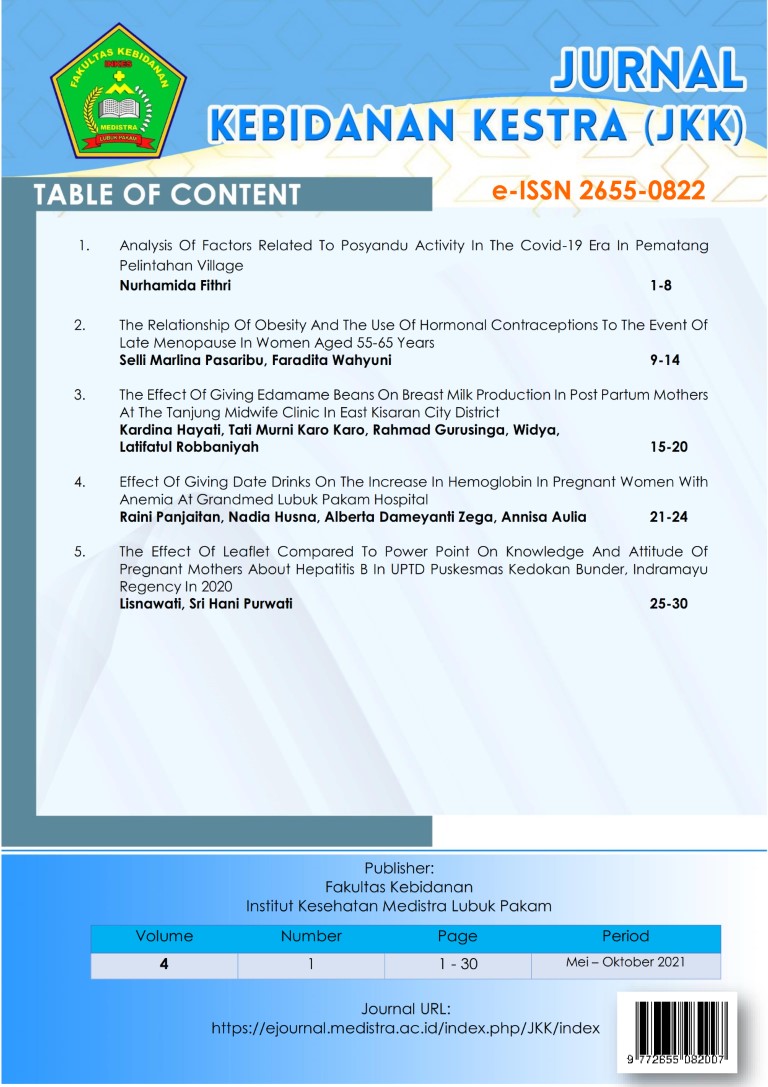 How to Cite
Fithri, N. (2021). Analysis Of Factors Related To Posyandu Activity In The Covid-19 Era In Pematang Pelintahan Village. JURNAL KEBIDANAN KESTRA (JKK), 4(1), 1-8. https://doi.org/10.35451/jkk.v4i1.795
Copyright (c) 2021 Nurhamida Fithri
This work is licensed under a Creative Commons Attribution 4.0 International License.
Copyright in each article is the property of the Author.