COUNSELING ON FAMILY SUPPORT IN THE CURE OF PULMONARY TB PATIENTS AT LUBUK PAKAM HEALTH CENTER
COUNSELING ON FAMILY SUPPORT IN THE CURE OF PULMONARY TB PATIENTS AT LUBUK PAKAM HEALTH CENTER
Keywords:
Counseling, Family Support, Pulmonary TB Healing
Abstract
Tuberculosis (TB) is a life-threatening disease, TB is also an infectious disease that can be transmitted to everyone, both at the age of children, adults and the elderly. Transmission can occur through the air when the sufferer or sufferer is coughing, talking, sneezing or spitting. Once the germs enter the respiratory system, they will attack the lungs and spread to the circulatory system. Factors that cause TB apart from agent (host) factors are also influenced by environmental factors. Treatment of TB patients takes at least 6 months, for 6 months the patient must take medicine regularly every day at the same time, because the length of the treatment process sometimes makes the patient feel bored and bored to take it, besides that this condition is a disease that can transmit it to other people makes them ostracized from their environment, this condition makes sufferers more down and resigned to their illness so that it can be dangerous and can even cause death. therefore the role of the family in providing support is very important, because the family is the closest person to the patient, so the family must know what support needs to be given to the patient. The purpose of community service is to increase knowledge, especially about family support in the healing process of TB patients. This activity was held in November at the Lubuk Pakam Health Center, the counseling participants were 121 patients and their families. Before counseling, the majority of participants said they did not know what kind of support was given to patients, but after counseling, the majority of participants became aware and ready to accompany patients until the doctor declared the patient cured. It is recommended that the patient's family or patient can continue to increase knowledge, especially about TB disease.
References
Berkanis. T. & Meriyanti, (2019). Pengaruh Dukungan Keluarga Penderita Tuberculosis (Tb) Terhadap Harga Diri Penderita Tuberculosis (Tb) di Puskesmas Oebobo Kota Kupang. CHM-K Applied Scientifics Journal Vol 2 No 3.
Chen X, Du L, Wu R, Xu J, Ji H, Zhang Y, et al. (2020). The effects of family, society and national policy support on treatment adherence among newly diagnosed tuberculosis patients: A cross- sectional study. BMC Infect Dis. 2020;20(1):1–11.
Hasanah.M., Makhfudli.,& Wahyudi.S. (2018). Hubungan Dukungan Keluarga Dengan Efikasi Diri Penderita Tuberculosis Multidrug Resistant (Tb-Mdr) di Poli Tb-Mdr RSUD Ibnu Sina Gresik. Jurnal Kesehatan Vol 11 No 2. P-ISSN : 2086-2555; E-ISSN : 2622- 7363.
Herawati.C., Abdurakhman .N & Rundamintasih .N, (2020). Peran Dukungan Keluarga, Petugas Kesehatan dan Perceived Stigma dalam Meningkatkan Kepatuhan Minum Obat pada Penderita Tuberculosis Paru. Jurnal Kesehatan Masyarakat Indonesia, Volume 15, Nomor 1, Halaman 19- 23.
Hutama.I.H., Riyanti.E.,& Kusumawati.A. (2019). Gambaran Perilaku Penderita TB Paru Dalam Pencegahan Penularan TB Paru di Kabupaten Klaten. Jurnal Kesehatan Masyarakat (e-Journal) Volume 7, ISSN: 2356-3346.
Nazhofah, Q., & Hadi, N, (2022). Dukungan Keluarga terhadap Kepatuhan Pengobatan pada Pasien Tuberculosis : Literature Review. The Indonesian Journal of Health Promotion Vol .5 No.6 ISSN 2597-6052.
Pakpahan, Y. J. (2021). Hubungan Dukungan Keluarga Terhadap Proses Kesembuhan Pasien Tuberkolosis Paru Di Wilayah Kerja Puskesmas Rahuning Kecamatan Rahuning Kabupaten Asahan. Ensiklopedia of Journal Vol. 3 No.4 Edisi 1. http://jurnal.ensiklopediaku.org
Profil Badan Pusat Statistik Provinsi SUMUT (2020). Jumlah Kasus Penyakit Menurut Kabupaten/Kota dan Jenis Penyakit di Provinsi Sumatera Utara. https://sumut.bps.go.id/statictab le/2021/04/21/2219/jumlah- kasus-penyakit-menurut- kabupaten-kota-dan-jenis- penyakit-di-provinsi-sumatera- utara-2020.html
Solihin. S & Alifah. L, (2021). Faktor Predisposisi, Pencegahan Dan Perilaku Sembuh Pasien Tuberkulosis Paru. Jurnal Health Sains Vol. 2, No. 7, p–ISSN: 2723- 4339 e-ISSN: 2548-1398.
Ulva M.S & Hamsi.J, (2020). (FAKTOR Risiko Kejadian Tuberculosis Paru Di Wilayah Kerja Puskesmas Lombakasih Kabupaten Bombana. Journal of Public Health, Vol.3 No.2 e- ISSN: 2622- 7762.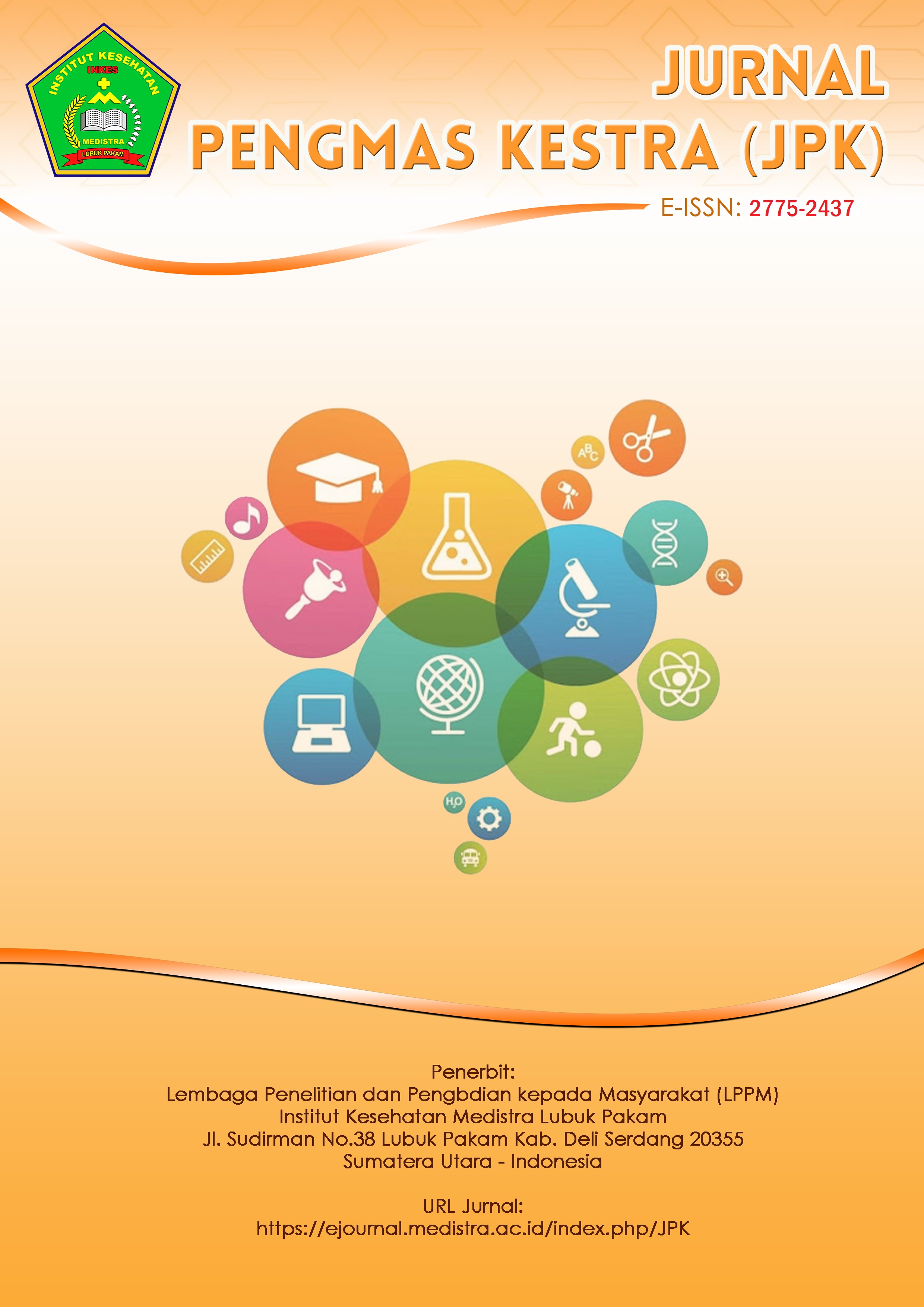 Downloads
License
Copyright in each article is the property of the Author.