COUNSELING ABOUT THE IMPACT OF STUNTING ON TODDLERS
COUNSELING ABOUT THE IMPACT OF STUNTING ON TODDLERS
Keywords:
Counseling, Impact of Stunting, Toddlers
Abstract
high incidence of stunting. Stunting is a chronic condition that can be seen from stunted growth due to malnutrition that occurs over a long period of time. Currently, the incidence of stunting in children under five is around 162 million. If this incident continues, it is estimated that by 2025 there will be an additional number of children experiencing stunting, namely around 127 million children. Therefore, it is necessary to provide counseling to mothers of toddlers regarding what factors can cause stunting to be able to anticipate that their children will experience stunting. The purpose of this community service activity (PKM) is to identify how knowledgeable mothers are about the impact of stunting on toddlers. This activity was carried out in November for 2 days by distributing questionnaires before and after counseling which aimed to find out mother's knowledge about the impact of stunting on toddlers. The results of the PKM showed that before the counseling activities were carried out, the majority of the knowledge of mothers under five was in the sufficient category, namely 46.4% and after the extension activities, the majority of knowledge of mothers under five was good, namely 71.4%. It is recommended that mothers and families pay attention to the growth and development of their children and provide adequate nutrition to meet the nutritional intake of children, so that the incidence of stunting in children under five can be avoided and the growth and development of children. develop perfectly and become the next generation of intelligent nation.
References
Bommer, C., Vollmer, S., & Subramanian, S. v. (2019). How socioeconomic status moderates the stunting-age relationship in low-income and middle-income countries. BMJ Global Health, 4(1). https://doi.org/10.1136/bmjgh-2018-001175
Dwi Astuti, D., Benya Adriani, R., Widyastuti Handayani, T., Keperawatan, J., & Kemenkes Surakarta, P. (2020). Pemberdayaan Masyarakat Dalam Rangka Stop Generasi Stunting. 4(2), 156–162. https://doi.org/10.31764/jmm.v4i2.1910
Hamzah, St. R., & B, H. (2020). Gerakan Pencegahan Stunting Melalui Edukasi pada Masyarakat di Desa Muntoi Kabupaten Bolaang Mongondow. JPKMI (Jurnal Pengabdian Kepada Masyarakat Indonesia), 1(4), 229–235. https://doi.org/10.36596/jpkmi.v1i4.95
Hidayah, N., & Marwan, M. (2020). Upaya Pemberdayaan Masyarakat Dalam Menciptakan Generasi Milenial Sadar Gizi Yang Bebas Stunting Melalui Kegiatan 1000 HPK. Journal of Community Engagement in Health, 3(1), 86–93. https://doi.org/10.30994/jceh.v3i1.41
Ilmu Kesehatan, F., Primi Astuti, F., & Purwaningsih, H. (n.d.). Indonesian Journal of Community Empowerment (IJCE) Peningkatan Pengetahuan Masyarakat Tentang Stunting dan Gizi Balita di Desa Rogomulyo Kecamatan Kaliwungu.
Laili, U., Ariesta, R., Andriani, D., Masyarakat, P., & ……… D. (2019). Pemberdayaan Masyarakat Dalam Pencegahan Stunting. In Jurnal Pengabdian Masyarakat Ipteks (Vol. 5, Issue 1).
Lestari, A., & Hanim, D. (2020). Edukasi Kader dalam Upaya Pencegahan dan Penanggulangan Stunting di Kecamatan Mondokan Kabupaten Sragen. AgriHealth: Journal of Agri-Food, Nutrition and Public Health, 1(1), 7. https://doi.org/10.20961/agrihealth.v1i1.41106
Megawati, G., & Wiramihardja, S. (2019). Peningkatan Kapasitas Kader Posyandu Dalam Mendeteksi Dan Mencegah Stunting Di Desa Cipacing Jatinangor (Vol. 8, Issue 3).
Pengabdian, J., Stikes, K., Kudus, C. U., Wardha Alvita, G., Dwi Winarsih, B., Hartini, S., Faidah, N., Studi, P., Keperawatan, I., Cendekia, S., & Kudus, U. (2021). Peningkatan Pemahaman Masyarakat Pentingnya Asi Dan Mp Asi Yang Tepat Dalam Pencegahan Stunting Di Wilayah Kerja Puskesmas Rejosari Di Desa Cranggang. 4(2). http://jpk.jurnal.stikescendekiautamakudus.ac.id
Rohmah, F. N., & Siti Arifah. (2021). Optimalisasi Peran Kader Kesehatan Dalam Deteksi Dini Stunting. Bemas: Jurnal Bermasyarakat, 1(2), 95–102. https://doi.org/10.37373/bemas.v1i2.88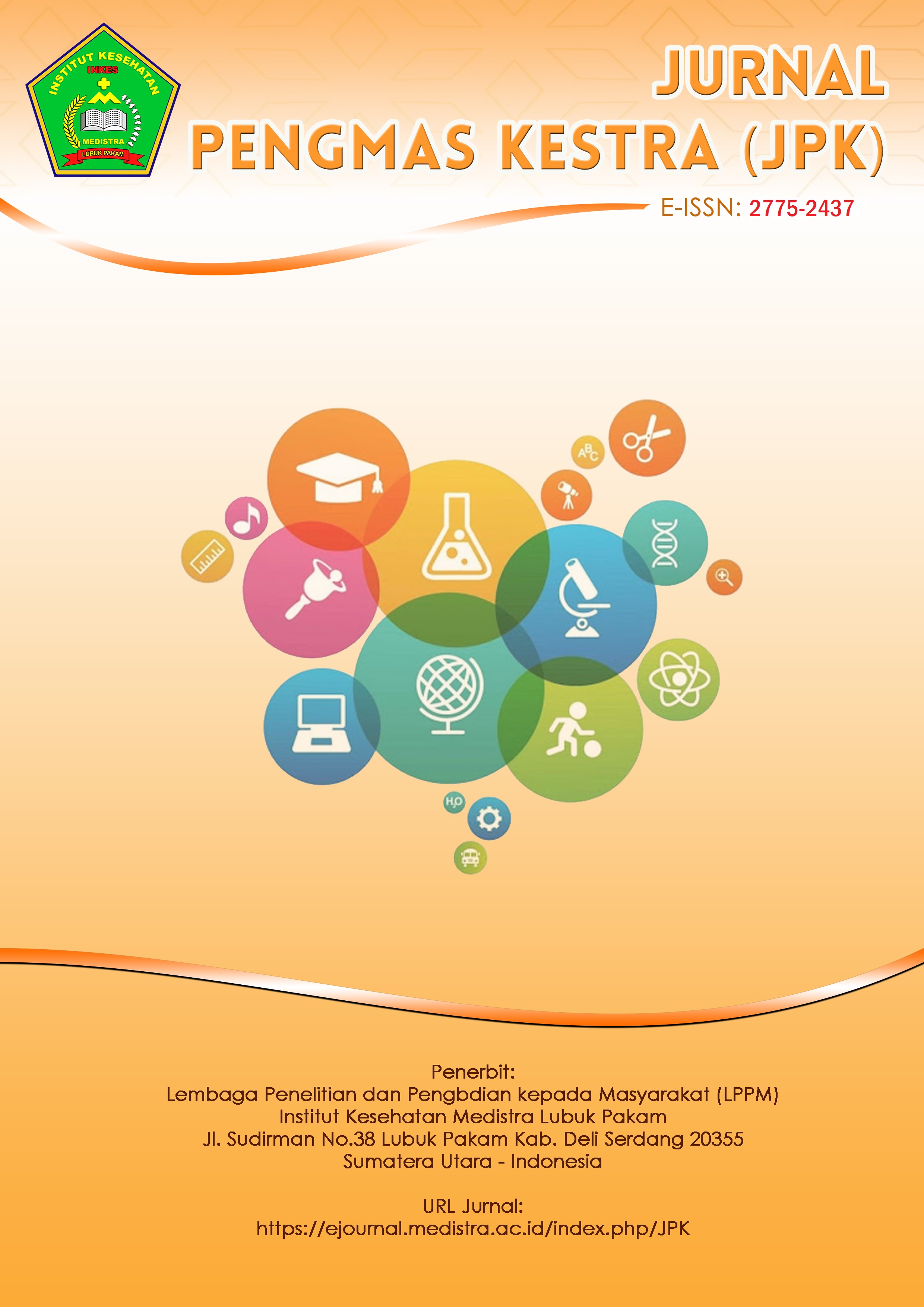 Downloads
License
Copyright in each article is the property of the Author.