EDUKASI TENTANG PENERAPAN PROTOKOL KESEHATAN DALAM UPAYA PENCEGAHAN COVID-19
Keywords:
COVID-19, Health Education, Health Protocol
Abstract
The end of 2019 to be precise in December, the world community was shocked by the corona virus. The increasing number of cases which is increasing in such a fast time has caused COVID-19 to become a pandemic. This paper aims to provide education on the application of health protocols in efforts to prevent COVID-19 in Serdang Bedagai Regency, North Sumatra Province. The method of implementing this activity is through observation and providing health education on the application of health protocols in efforts to prevent COVID-19 to the public. From the results of the activities carried out, the community enthusiastically welcomed this activity. It is hoped that with this activity, people's behavior in implementing health protocols will increase.
References
Gennaro, F., Pizzol, D., Marotta, C., Antunes, M., Racalbuto, V., Veronese, N., & Smith, L. (2020). Coronavirus diseases (COVID-19) current status and future perspectives: A narrative review. International Journal of Environmental Research and Public Health, 17(8). https://doi.org/10.3390/ijerph17082690
Kementrian Kesehatan RI. (2020). Pedoman Pencegahan dan Pengendalian Coronavirus Disease. Direktorat Jenderal Pencegahan dan Pengendalian Penyakit, 1-136.
Media Center Gugus Tugas Percepatan Penanganan Covid-19 Sumut. (2020). Data COVID 19 Di Sumatera Utara. https://bpbd.sumutprov.go.id/update-data-covid-19-di-sumatera-utara-20-juni-2020/2020/
Satuan Gugus Percepatan COVID-19. (2020). Info Grafis COVID-19. https://covid19.go.id/p/berita/infografis-covid-19-20-juni-2020
Wei, W. E., Li, Z., Chiew, C. J., Yong, S. E., Toh, M. P., & Lee, V. J. (2020). Presymptomatic Transmission of SARS-CoV-2-Singapore. Morbidity and Mortality Weekly Report, 69(14), 411– 415.
Yuliana. (2020). Corona Virus Disease (Covid-19); Sebuah Tinjauan Literatur. Wellness and Healthy Magazine, 2(1), 187-192.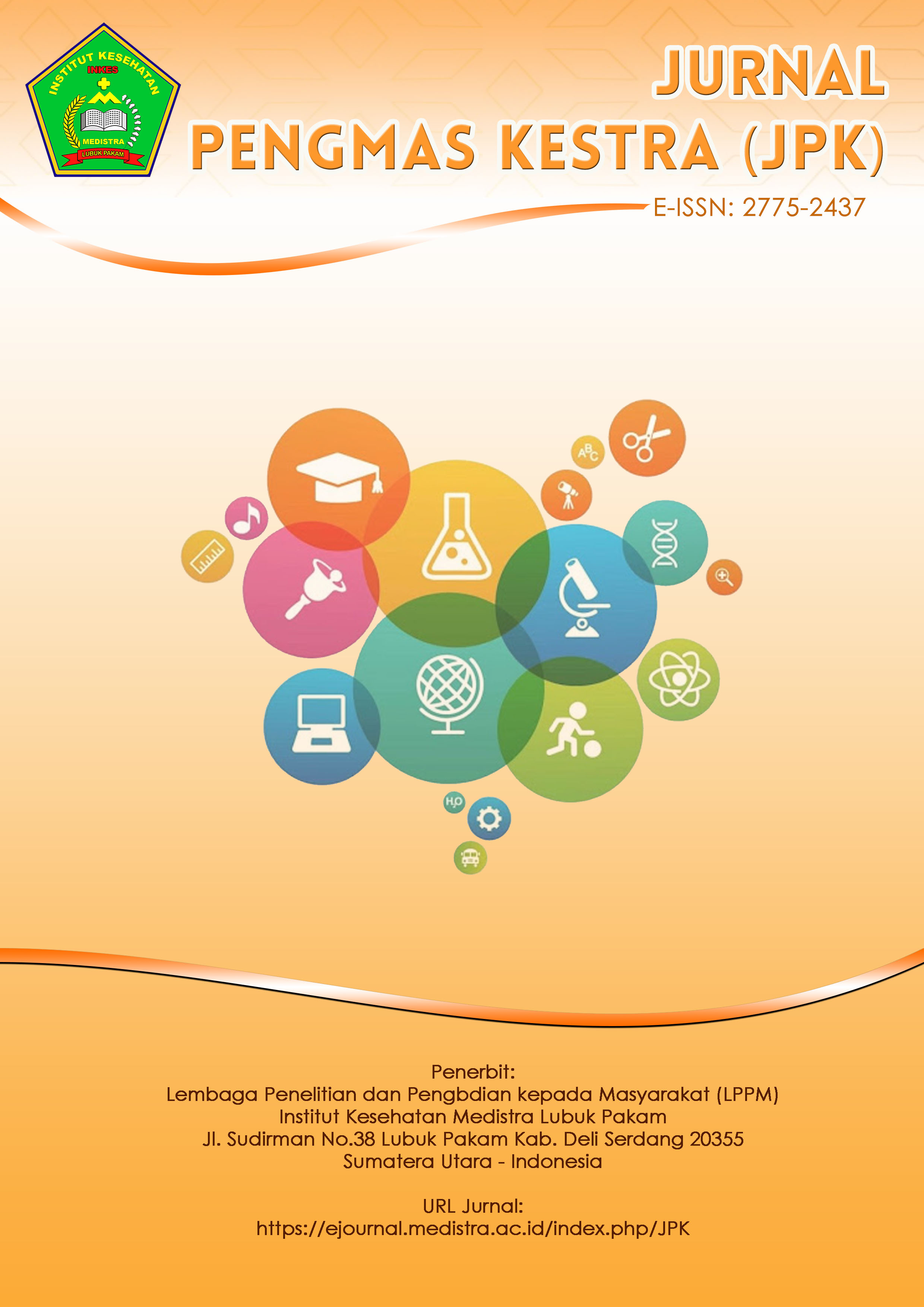 Downloads
License
Copyright in each article is the property of the Author.