FACTORS AFFECTING PATIENT SATISFACTION HOSPITALIZATION OF FOOD SERVICE AT GRANDMED LUBUK PAKAM HOSPITAL
Delita Br Panjaitan

Institut Kesehatan Medistra Lubuk Pakam

Achmad Rifai

Institut Kesehatan Medistra Lubuk Pakam

Lilis Kurniawati

Institut Kesehatan Medistra Lubuk Pakam
Keywords:
Patient Satisfaction, Pharmacy Services
Abstract
Health services in hospitals consist of various parts, one of which is nutrition services. The hospital nutrition service program aims to improve the quality of hospital services by providing efficient and integrated nutrition services with other health services. Nutrition services in hospitals are part of supporting health services, namely part of medical therapy. This type of research is a quantitative research with an analytical survey with a cross sectional design which aims to determine the factors that influence inpatient satisfaction with food serving at Grandmed Lubuk Pakam Hospital. The population in this study were all inpatients at Grandmed Lubuk Pakam Hospital, which 256 patients were found based on an initial survey conducted in March 2022. The sample in this study were inpatients in the 3D room collected by 30 patients who were taken using the accidental sampling technique. Data collection uses primary data and secondary data. Primary data using a prepared questionnaire while secondary data obtained from the Medical Record section in the form of data on the number of inpatients at Grandmed Lubuk Pakam Hospital. After the data was processed using the chi square test at the 95% confidence level (α = 5%). The basis for decision making with the provision that if the value of p < then H0 is rejected which can be concluded that there is a relationship between the independent and dependent variables. Based on the results of the study, it is known that the factors that influence the level of satisfaction with the presentation of inpatients at Grandmed Lubuk Pakam Hospital, with an average result of 73.9%, (patients are satisfied
Downloads
Download data is not yet available.
References
Afriyanti et al.(2017). Kualitas pelayanan yang baik akan mempengaruhi kepuasan pasien dan pasien akan cenderung kembali datang untuk menggunakan jasa pelayanan tersebut.
Messina et al., (2013). Aspek penting yang mempengaruhi kepuasan pasien di rumah sakit adalah hubungan pasien dengan makanan dan nutrisi dalam perawatan di rumah sakit
Messina et al., (2016). Aspek penentu kepuasan pasien di rumah sakit Italia
Messina et al.,(2016). Aspek yang mempengaruhi kepuasan pasien dirumah sakit
M Rizal Permadi & Ida Ayu Eka Permadi. (2021). Faktor- Faktor yang Mempengaruhi Pasien Terhadap Pelanyajian Makanan Biasa Di Rumah Sakit Umum Puri Raharja Denpasar.
Simanjuntak et al., 2020. Pelayanan gizi di rumah sakit bagian penunjang pelayanan kesehatan
Zidni Ilma Nafi'a. (2021). Faktor Kepuasan Pasien Terhadap Pelayanan Makanan Di Rumah Sakit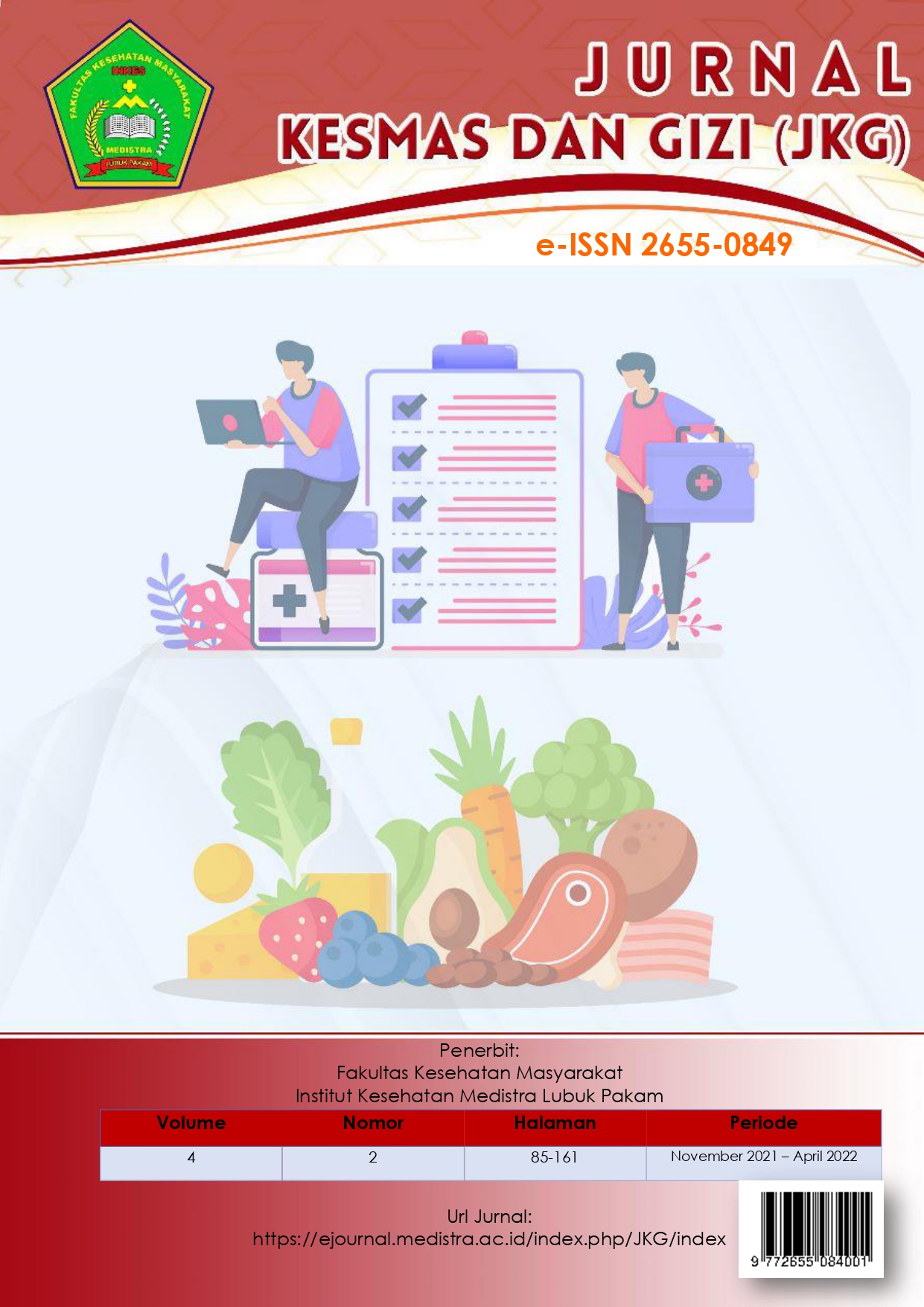 How to Cite
Panjaitan, D., Rifai, A., & Kurniawati, L. (2022). FACTORS AFFECTING PATIENT SATISFACTION HOSPITALIZATION OF FOOD SERVICE AT GRANDMED LUBUK PAKAM HOSPITAL. JURNAL KESMAS DAN GIZI (JKG), 4(2), 91-95. https://doi.org/10.35451/jkg.v4i2.1059
Copyright (c) 2022 Delita Br Panjaitan, Achmad Rifai, Lilis Kurniawati
This work is licensed under a Creative Commons Attribution-NonCommercial-ShareAlike 4.0 International License.
Copyright in each article is the property of the Author.