THE RELATIONSHIP OF REGISTRATION WAITING TIME WITH PATIENT SATISFACTION AT THE OUTSTANDING PATIENT REGISTRATION PLACE
Jul Asdar putra samura

INSTITUT KESEHATAN MEDISTRA LUBUK PAKAM

Balqis Wasliati

Institut Kesehatan Medistra Lubuk Pakam

Raja Safriana Fadillah

Institut Kesehatan Medistra Lubuk Pakam
Keywords:
Waiting Time of Registration, Patient Satisfaction
Abstract
Patient waiting time in service at outpatient registration is one of the important factors that will determine the initial image of the hospital. Patient waiting time is also a potential component as a cause of dissatisfaction. Long waiting times at outpatient registration will reduce patient comfort. This study aims to determine the relationship between waiting time for registration with patient satisfaction at the outpatient registration area at Grandmed Lubuk Pakam Hospital. This type of research is analytic observational with cross sectional design. The population in this study were all Outpatients (TPPRJ). A sample of 62 people was drawn by purposive sampling technique. Methods of collecting data by direct interviews using a questionnaire, data analysis using the Chi-square test. Based on the results of the study, it is known that the waiting time for registration in the fast category is 62.9%. Patient satisfaction in the satisfied category was 59.7%. There is a relationship between waiting time for registration and patient satisfaction at the Outpatient Registration Center. p-value (= 0.022) < (= 0.05). It is recommended for Outpatient Registration Officers at Lubuk Pakam Hospital, must pay attention to the length of waiting time in Outpatient Registration, work faster and more precisely according to SOPs so that patients are always satisfied, happy with the services that have been provided by officers.
Downloads
Download data is not yet available.
References
Anandyta, M. (2020). Analisis Perbandingan Pengalaman Pasien Rawat Inap di Rumah Sakit Umum Daerah Haji Makassar Dengan Rumah Sakit Stella Maris Makassar. Universitas Hasanuddin.
Dewi, A.U. (2015). Hubungan Waktu Tunggu Pendaftaran dengan Kepuasan Pasien di Tempat Pendaftaran Pasien Rawat Jalan (TPPRJ) RSUD Sukoharjo. Naskah Publikasi. Fakultas Ilmu Kesehatan Universitas Muhammadiyah Surakarta.
Febriyanti, D. (2013). Deskripsi Faktor-faktor yang Mempengaruhi Waktu Tunggu Pendaftaran di TPPRJ RSUD Tugurejo, Semarang . Universitas Dian Nuswantoro.
Irmawati, M & Bayin, I. (2021). Manajemen Informasi Kesehatan (Pengelolaan Rekam Medis) Edisi Revisi. Deepublish.
Laeliyah N, Subekti H. Waktu Tunggu Pelayanan Rawat Jalan dengan Kepuasan Pasien Terhadap Pelayanan di Rawat Jalan RSUD Kabupaten Indramayu. J Kesehat Vokasional. 2017;1(2):102.
N., W. (2010). Analisis Lost Patient di Poliklinik Rawat Jalan Rumah Sakit Pertamina Jaya Tahun 2008. Universitas Indonesia.
Nurcahyanti E. Studi Hubungan Antara Mutu Pelayanan Kesehatan dengan Kepuasan Pasien Di Unit Pelayanan Rawat Inap Rumah Sakit Umum Daerah Bhakti Dharma Husada. J Manaj Kesehat Yayasan RSDr Soetomo. 2017;3(1):8.
Marno. (2002). Konsep dasar waktu tunggu pasien rawat jalan. Universitas Pandanaran.
Munawarah, Munawarah, Fitriani, Arifah Devi, & Jamaluddin, Jamaluddin. (2020). Analisis Mutu Pelayanan Poliklinik Rawat Jalan di Rumah Sakit Ibu dan Anak Harapan Medika Ujungbatu Rokan Hulu Riau Tahun 2019. Jurnal Kesehatan Cehadum, 2(2), 19–30.
Suasnawa, I. G., & Gorda, A. A. N. E. S. (2017). Pengaruh Pelayanan Prima dan Customer Relationship Management terhadap Loyalitas Pasien yang dimediasi oleh Kepuasan dan Kepercayaan. Manajemen Dan Bisnis, ISSN: 1829-8486, 14(1), 56–74.
Tarigan, Handy, & Ginting, Magdalena. (2019). Pengaruh Komunikasi Terapeutik Petugas Kesehatan Terhadap Kepuasan Pasien Rawat Inap di Rumah Sakit Umum Herna Medan. Jurnal Ilmiah Kohesi, 3(2), 58–67.
Taylor S.E, d. (2014). Psikologi Sosial. Jakarta: Kencana Prenada Media Group.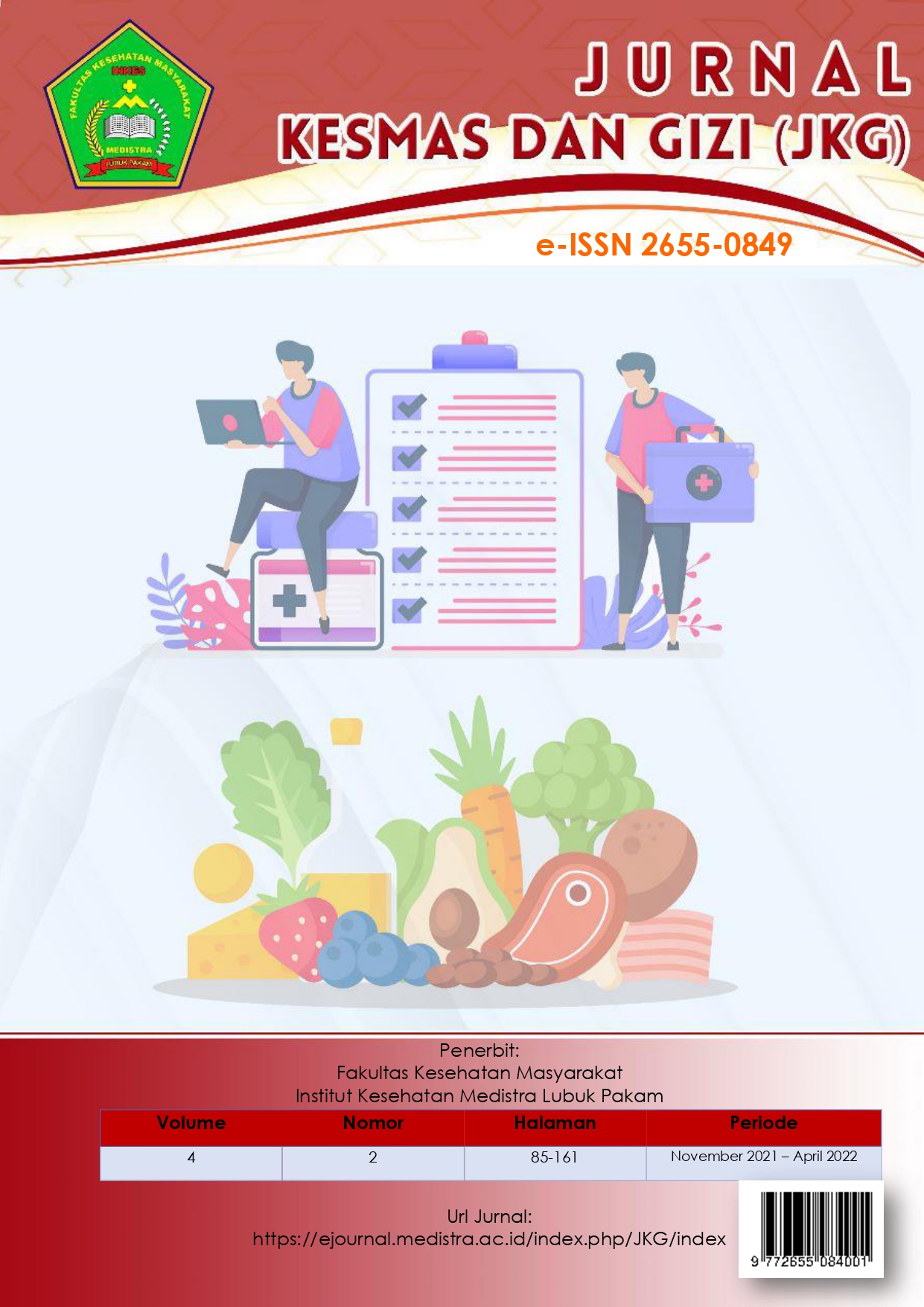 How to Cite
samura, J. A., Wasliati, B., & Fadillah, R. (2022). THE RELATIONSHIP OF REGISTRATION WAITING TIME WITH PATIENT SATISFACTION AT THE OUTSTANDING PATIENT REGISTRATION PLACE. JURNAL KESMAS DAN GIZI (JKG), 4(2), 111-115. https://doi.org/10.35451/jkg.v4i2.1069
Copyright (c) 2022 Jul Asdar putra samura, Balqis Wasliati, Raja Safriana Fadillah
This work is licensed under a Creative Commons Attribution-NonCommercial-ShareAlike 4.0 International License.
Copyright in each article is the property of the Author.