PENGARUH PEMBERIAN AIR REBUSAN KACANG HIJAU TERHADAP PENINGKATAN KADAR HEMOGLOBIN PADA PEKERJA BAGIAN KANTOR DI RS.GRANDMED
Jul Asdar putra samura

INSTITUT KESEHATAN MEDISTRA LUBUK PAKAM

Delita Br Panjaitan

Institut Kesehatan Medistra Lubuk pakam

Raisha Octavariny

Institut Kesehatan Medistra Lubuk pakam

Sri Melda Br Bangun

Institut Kesehatan Medistra Lubuk pakam

Eka Wulandari

Institut Kesehatan Medistra Lubuk pakam
Keywords:
Hemoglobin, green beans cooking water
Abstract
Hemoglobin is a protein that is rich in iron. The function of Hb in the blood is to carry oxygen to the lungs, to the tissues and to carbon dioxide. Efforts to increase hemoglobin levels are related to the intake of foods containing iron, one of which is the provision of green bean cooking water. The purpose of this study was to determine the effect of giving mung bean boiled water to an increase in hemoglobin levels in office workers at Rs.Grandmed Lubuk Pakam. This research design with one group pre test-post test. The population in this study were employees of Rs.Grandmed. The number of research samples were 48 workers for the total sampling. Data analysis using paired t-test. The results showed that the HB level of workers before giving green bean cooking water was not normal, namely 39 (81.3%) respondents with an average of 1.81. The HB levels of workers after giving green bean boiled water were all normal HB categories, namely as many as 48 (100%) respondents with an average of 1.00. Data analysis using pre-test and post-test giving green bean boiled water in the experimental group showed results where the p value was 0.000, the value was 0.000 <0.05, so it could be said that there was a significant difference between the pre-test and post-test values. hypothesis is accepted. The conclusion of this study is that there is an effect of giving mung bean boiled water to an increase in hemoglobin levels in office workers at the Grandmed Lubuk Pakam Hospital. It is hoped that the hospital leadership will educate the workers that green bean cooking water can be used as an alternative to increasing hemoglobin levels.
Downloads
Download data is not yet available.
References
Faridah Umi.2017. Pemberian Kacang Hijau Sebagai Upaya Peningkatan Kadar Hemoglobin Pada Remaja
Gizi Dengan Produktivitas Kerja Wanita Di Bagian Percetakan Dan Pengemasan Si Ud X Sidoarjo
Retnorini.2017. Pengaruh Pemberian Tablet Fe Dan Sari Kacang Hijau Terhadap Kadar Hemoglobin Pada Ibu Hamil.
Nuraeni Riri,2019.Peningkatan Kadar Hemoglobin Melalui Pemeriksaan Dan Pemberian Tablet Fe Terhadap Remaja Yang Mengalami Anemia Melalui Gerakan Amirul Amalia.2016. Efektivitas Minuman Kacang Hijau Terhadap Peningkatan Kadar Hemoglobin.
WHO. 2011. Prevention Of Deficiency Anaemia In Adolescents Role Of Weekly Iron And Folic Acid Supplementation Iron.http://apps.searo.who.int/PDS_DOCS/B4770.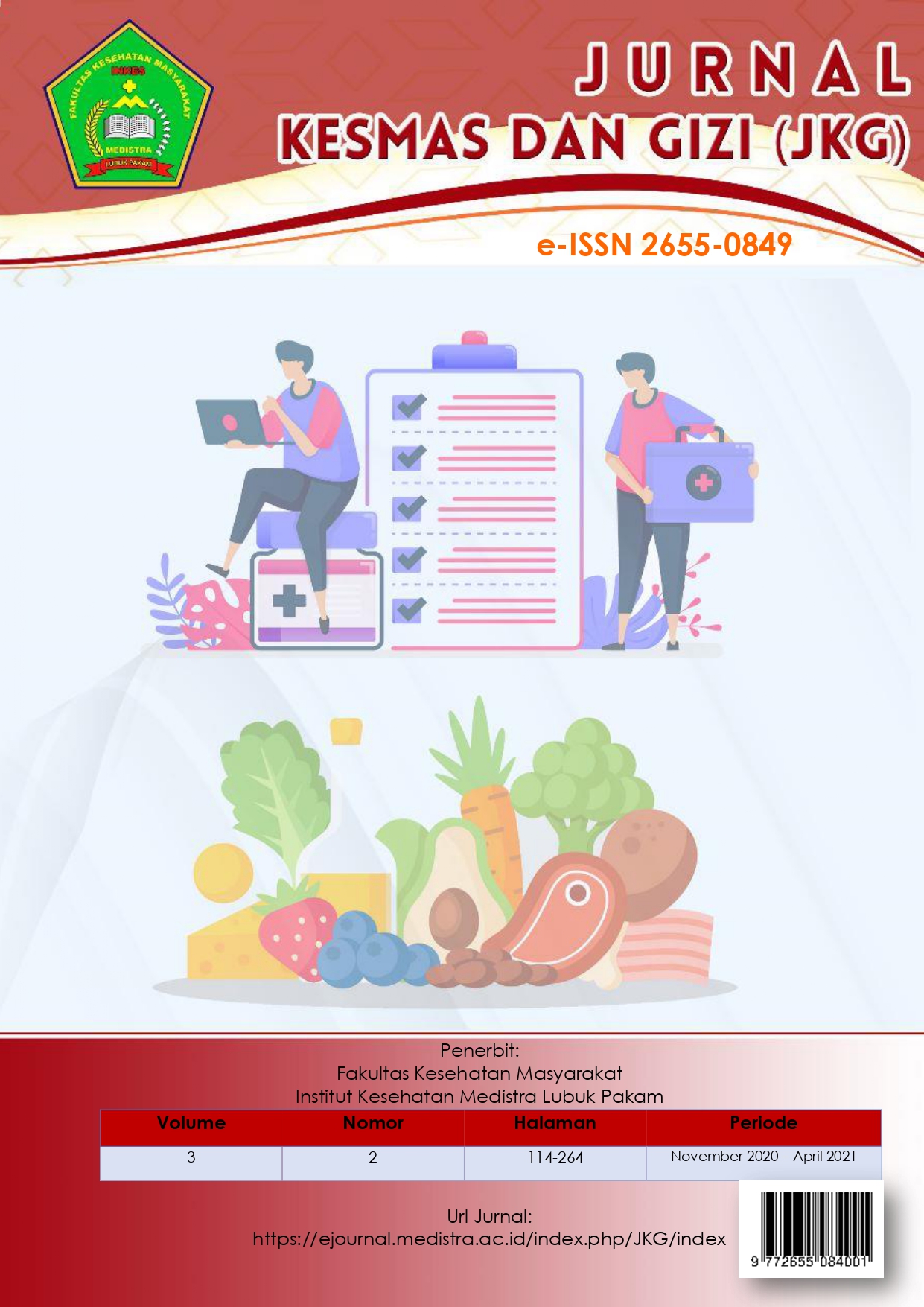 How to Cite
samura, J. A., Br Panjaitan, D., Octavariny, R., Melda Br Bangun, S., & Wulandari, E. (2021). PENGARUH PEMBERIAN AIR REBUSAN KACANG HIJAU TERHADAP PENINGKATAN KADAR HEMOGLOBIN PADA PEKERJA BAGIAN KANTOR DI RS.GRANDMED. JURNAL KESMAS DAN GIZI (JKG), 3(2), 149-154. https://doi.org/10.35451/jkg.v3i2.601
Copyright (c) 2021 Jul Asdar putra samura, Delita Br Panjaitan, Raisha Octavariny, Sri Melda Br Bangun, Eka Wulandari
This work is licensed under a Creative Commons Attribution-NonCommercial-ShareAlike 4.0 International License.
Copyright in each article is the property of the Author.