HUBUNGAN BEBAN KERJA DAN MASA KERJA DENGAN KELUHAN NYERI LEHER PADA PENJAHIT DI LEMBAGA LATIHAN KERJA LUBUK PAKAM TAHUN 2020
Delita Br Panjaitan

INSTITUT KESEHATAN MEDISTRA LUBUK PAKAM

Raisha Octavariny

Institut Kesehatan Medistra Lubuk pakam

Sri Melda Br Bangun

Institut Kesehatan Medistra Lubuk pakam

Anggi Isnani Parinduri

Institut Kesehatan Medistra Lubuk pakam

Ade Julfiani Ritonga

Institut Kesehatan Medistra Lubuk pakam
Keywords:
Workload, work mass, neck pain complaints
Abstract
Complaints of neck pain are a complaint on the part of the skeletal muscle as a result of forced movement and receiving heavy loads for a long time. Tailoring is one of the jobs that has a high risk of experiencing neck pain complaints. The rotation of the spine when the body is bending is a factor in neck pain complaints that are often complained of by tailors. This work activity will indirectly endanger health. This study aims to determine the relationship between workload and work period with complaints of neck pain in tailors at the Lubuk Pakam Training Institute in 2020. The type of research used is quantitative with a cross sectional design. The population of this study were 30 workers at the Lubuk Pakam training institute using the total sampling technique. Data collection by questionnaire. Data analysis used the chi-square test at the level of confidence level of 95% and α = 0.05. The results showed that there was a significant relationship between workload (p = 0.024) and length of service (p-0.016) with complaints of neck pain in tailors at the Lubuk Pakam Training Institute. It is advisable for tailors to pay more attention to health and safety while working without forcing the body to work and regulating good working hours, adequate rest, stretching while working and paying attention to the dangers that can occur in the work environment
Downloads
Download data is not yet available.
References
Nurmianto.(2018).Standar Kesehatan dan Keselamatan Kerja di RS Jakarta: Kepmenkes RI
Saleh M.L.(2018).Man Behind The Scene Aviation Safety. Yogyakarta: Deepublish
Sari. (2018).Keluhan Low Back Pain pada Perawat Inap RSUD Selasi Pangkalan Kerinci : Riau
Soedirman. (2016).Hubungan Beban Kerja Perawat Ruang Operasi dengan Kejadian Low Back Pain pada Perawat Ruang Operasi Di RSUD Yogyakarta. Tesis. Yogyakarta: Politeknik Kesehatan. Kementerian Kesehatan.
Sumamur. (2018).Teknik Keselamatan dan Kesehatan Kerja di Industry. Yogyakarta : Graha Ilmu
Tarwaka. (2018).Standardised Nordic
questionnaires for the Analysis of Museculoskeletal Symtoms. Findland : Institute Occupational Health, Departement of Physiology. Kuesioner Low Back Pain.
Tarwaka.(2015).Ergonomi Industri Dasardasar Pengetahuan Ergonomi dan Aplikasi di Tempat Kerja. Surakarta: Harapan Press.
Wiyatno,T.H.(2011).Hubungan antara Beban Kerja dan Sikap Kerja dengan Keluhan Muskuloskeletal pada Buruh Panggul di Kawasan Industri Candi Kota Semarang. Skripsi Diterbitkan Semarang. Fakultas Ilmu Keolahragaan.
Zulfiqar, M.A.R.(2017).Hubungan antara Beban Kerja Fisik dan Beban Kerja Mental Berbasis Ergonomi Terhadap Tingkat Kejenuhan Kerja Pada Karyawan PT. Jasa Marga (Persero) Tbk Cabang Surabaya Gempol. Jurnal Sains Psikologi, Vol 6, No. 1.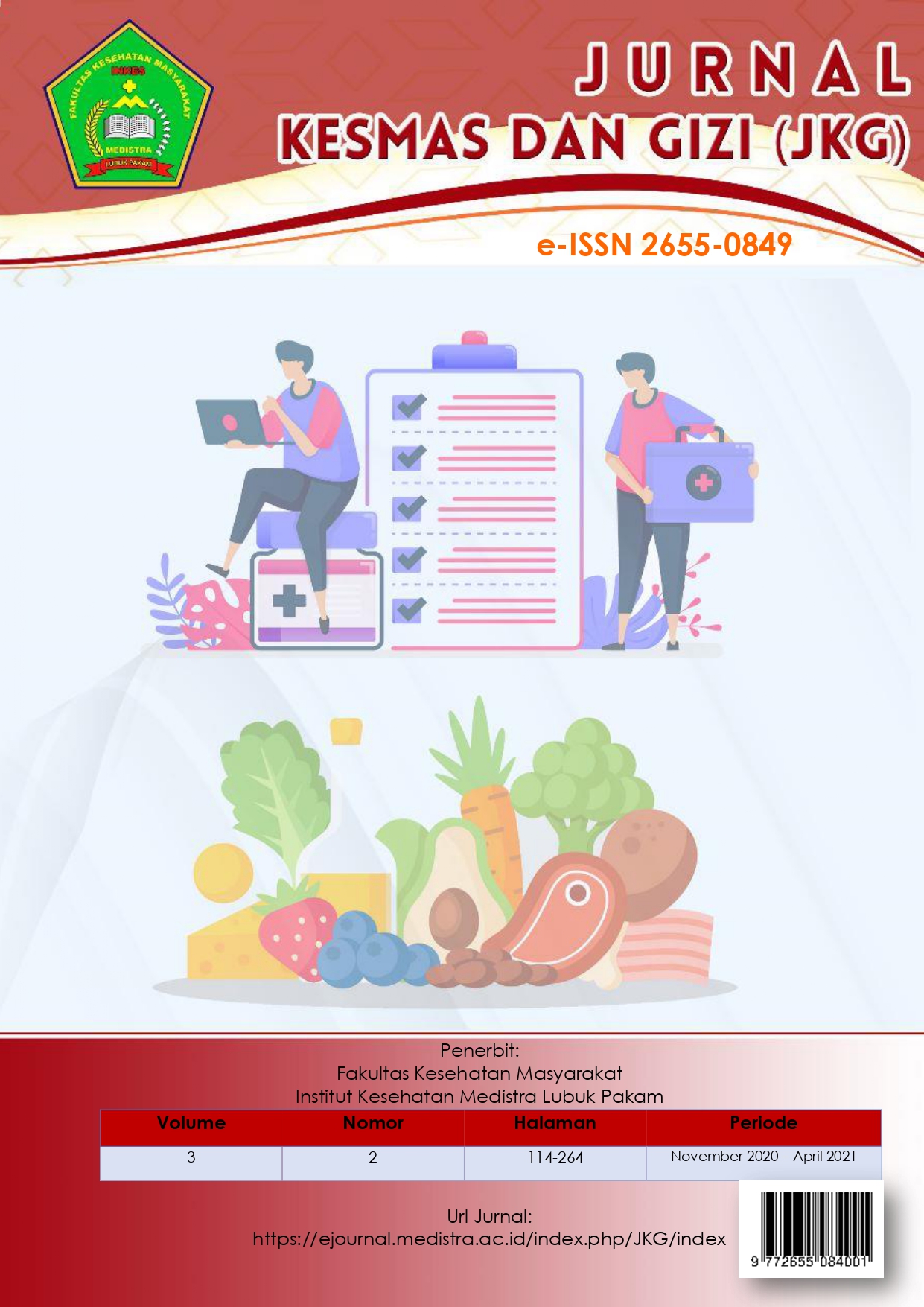 How to Cite
Panjaitan, D., Octavariny, R., Br Bangun, S. M., Isnani Parinduri, A., & Julfiani Ritonga, A. (2021). HUBUNGAN BEBAN KERJA DAN MASA KERJA DENGAN KELUHAN NYERI LEHER PADA PENJAHIT DI LEMBAGA LATIHAN KERJA LUBUK PAKAM TAHUN 2020. JURNAL KESMAS DAN GIZI (JKG), 3(2), 144-148. https://doi.org/10.35451/jkg.v3i2.599
Copyright (c) 2021 Delita Br Panjaitan, Raisha Octavariny, Sri Melda Br Bangun, Anggi Isnani Parinduri, Ade Julfiani Ritonga
This work is licensed under a Creative Commons Attribution-NonCommercial-ShareAlike 4.0 International License.
Copyright in each article is the property of the Author.