FAKTOR-FAKTOR YANG BERHUBUNGAN DENGAN PENYAKIT DIABETES MELITUS TIPE 2 PADA PASIEN DI RUMAH SAKIT GRANDMED LUBUK PAKAM
Reno Irwanto

Institut Kesehatan Medistra Lubuk Pakam

Annisa Febriana Siregar

Institut Kesehatan Medistra Lubuk pakam

Keleng Ate Ginting

Institut Kesehatan Medistra Lubuk pakam

Feberlian Ndruru

Institut Kesehatan Medistra Lubuk pakam
Keywords:
diet, diabetes mellitus type 2, physical activity
Abstract
Diabetes mellitus (DM) type 2 is a type of DM which is caused by the inability of the body to process glucose into the body which eventually causes an increase in glucose in the blood. Type 2 diabetes occurs because the amount of the hormone insulin is insufficient for glucose metabolism or decreased body sensitivity to the amount of blood glucose. There are many things that cause type 2 diabetes, including poor diet, lack of physical activity, obesity, heredity, increasing age and a history of type 3 diabetes (gestational). This study was conducted on 50 respondents at the Grandmed Lubuk Pakam hospital with a cross sectional study design and the respondents were selected by purposive sampling technique. The relationship factors seen in this study were age, gender, level of education, occupation, level of education, level of physical activity, smoking, obesity and diet. The results of the research obtained through the questionnaire were tested with the chi-square formula (X2) at the 5% real level. The results showed the distribution of respondents' occupation with 28% of respondents working as civil servants, 22% were retirees and 18% were private workers. The distribution of the respondents' physical activity consists of 3 levels, namely high, medium and low with percentage values ​​of 26%, 22%, and 52%, respectively. The distribution of the respondents' weight group was found that 18% of the respondents were underweight, 46% were normal, and 36% were obese. The test results showed the distribution of the respondent's diet in 2 groups, namely healthy and unhealthy with the percentage of the unhealthy group 66% and 34% healthy. and the distribution of respondents' smoking levels consisted of heavy, moderate, mild and non-smoking with percentage values ​​of 26%, 22%, 12%, and 40%, respectively.
Downloads
Download data is not yet available.
References
Decroli. (2019). Diabetes Militus Tipe 2. Palembang. Pusat Penerbitan Bagian Ilmu
International Diabetes Federation [IDF]. (2013). IDF Diabetes Atlas. Ninth Edition.
http://www.idf.org/diabetesatlas [20 Oktober 2014].
Lodovici, M., E. Bigagli. (2009). Biomarkers of induced active and passive smoking damage. International Journal of Environment Research and Public Health., 6: 874-888.
Patel, B.P., U.M. Rawal et al., (2008). Tobacco, antioxidant enzymes, oxidative stress, and genstic susceptibility in oral cancer. Am.J. Clin. Oncol, 31: 454-459.
Riset kesehatan dasar [RISKESDA]. (2019). Laporan Nasional Riskesdas. Jakarta.
Rossen J, et al. (2015). Physical activity promotion in the primary care setting in pre and type 2 diabetes. BMC Public Health. 15(647):1-11.
Simarmata, et al. (2020). Faktor-Faktor Yang Mempengaruhi Gangguan Tidur Pada Pasien Diabetes Melitus.
Trisnawati S K, Setyorogo 2. (2013). Faktor risiko kejadian diabetes melitus tipe II di Puskesmas Kecamatan Cengkareng Jakarta Barat Tahun 2012. Jurnal Ilmiah Kesehatan. 5(1)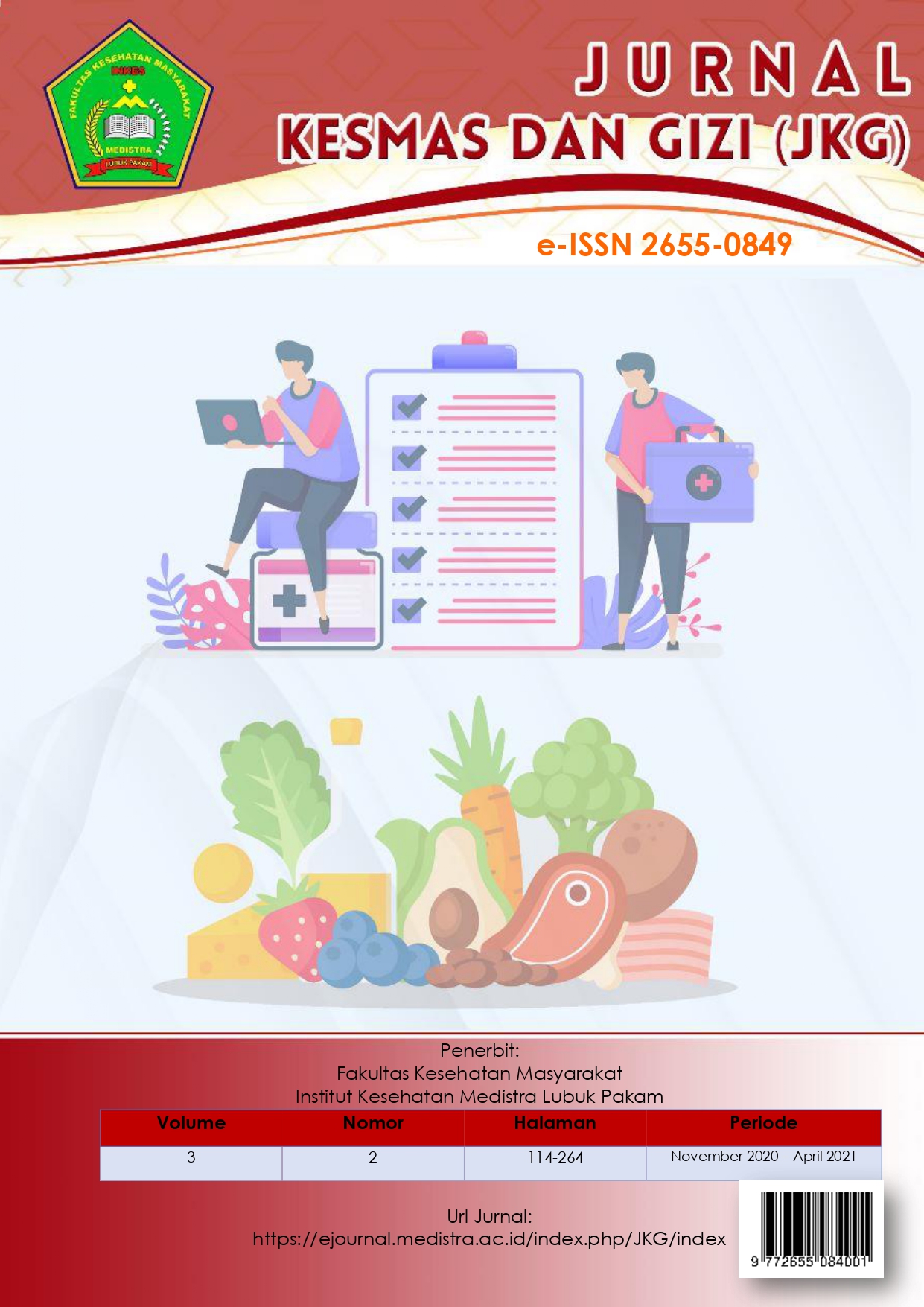 How to Cite
Irwanto, R., Febriana Siregar, A., Ate Ginting, K., & Ndruru, F. (2021). FAKTOR-FAKTOR YANG BERHUBUNGAN DENGAN PENYAKIT DIABETES MELITUS TIPE 2 PADA PASIEN DI RUMAH SAKIT GRANDMED LUBUK PAKAM. JURNAL KESMAS DAN GIZI (JKG), 3(2), 172-176. https://doi.org/10.35451/jkg.v3i2.664
Copyright (c) 2021 Reno Irwanto, Annisa Febriana Siregar, Keleng Ate Ginting, Feberlian Ndruru
This work is licensed under a Creative Commons Attribution-NonCommercial-ShareAlike 4.0 International License.
Copyright in each article is the property of the Author.