PERBANDINGAN BERAT BADAN BAYI USIA 0-6 BULAN MELALUI INTERVENSI BOLU KUKUS DAUN KATUK (SAUROPUS ANDROGYNUS) DI WILAYAH KERJA RUMAH SAKIT GRANDMED LUBUK PAKAM
Reno Irwanto

Institut Kesehatan Medistra Lubuk Pakam

Raini Panjaitan

Institut Kesehatan Medistra Lubuk Pakam

Marwita Pratiwi Nainggolan

Politeknik Kesehatan Medan

Meriahta Br Girsang

Institut Kesehatan Medistra Lubuk Pakam

Keleng Ate Ginting

Institut Kesehatan Medistra Lubuk Pakam
Keywords:
Bayi, bolu kukus, daun katuk
Abstract
Growth is an increase, the development of weight and mass or cell size which can be seen from the increase in height, weight and head circumference. Lack of nutritional intake in the form of breastmilk for babies in the golden period (0-6 months) can interfere with infant growth and development and will also reduce the quality of human resources. The intervention of katuk leaf steamed sponge cake is expected to increase milk production which will affect the baby's weight gain. In the study, the total number used was 30 people and divided into 2 groups of respondents who had intervention or product intervention (control). The results showed that the maternal age data for the age group 19-29 was 56.7% and those aged 30-49 were 43.3%. The level of education of mothers who participated as respondents started from SD with the proportion of 26.7%, SMP 23.3%, SMA 36.7%, and PT 13.3% and the distribution of respondents 'occupations was 46.7% of the respondents' occupation, employees 36.7%, self-employed 6.7%, and 10% teachers, and the results of the intervention of katuk leaf steamed sponge on 15 respondents used showed changes in the baby's body with an average value of 0.873 while 15 control respondents showed body changes with an average value of 0.627 on the statistical test with a P value (0.00).
Downloads
Download data is not yet available.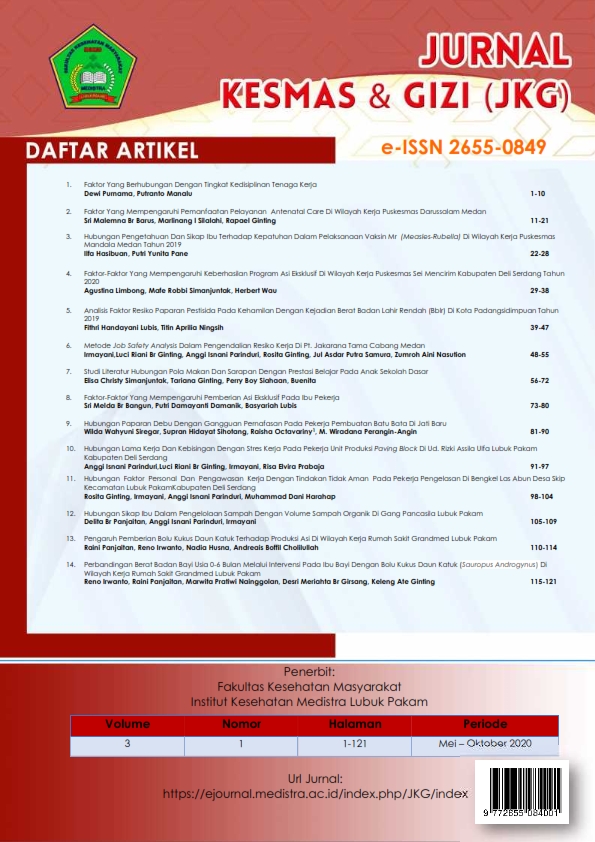 How to Cite
Irwanto, R., Panjaitan, R., Nainggolan, M., Girsang, M., & Ginting, K. (2020). PERBANDINGAN BERAT BADAN BAYI USIA 0-6 BULAN MELALUI INTERVENSI BOLU KUKUS DAUN KATUK (SAUROPUS ANDROGYNUS) DI WILAYAH KERJA RUMAH SAKIT GRANDMED LUBUK PAKAM. JURNAL KESMAS DAN GIZI (JKG), 3(1), 107-113. https://doi.org/10.35451/jkg.v3i1.538
Copyright (c) 2020 Reno Irwanto, Reno Irwanto; Raini Panjaitan
This work is licensed under a Creative Commons Attribution-NonCommercial-ShareAlike 4.0 International License.
Copyright in each article is the property of the Author.