PENGARUH PEMBERIAN SUSU KEDELAI TERHADAP PENINGKATAN PRODUKSI ASI PADA IBU MENYUSUI DI DESA MANGGA DUA DUSUN III KECAMATAN TANJUNG BERINGIN KABUPATEN SERDANG BEDAGAI
desri meriahta Girsang

Institut Kesehatan Medistra Lubuk Pakam

Jelita Manurung

Institut Kesehatan Medistra Lubuk Pakam

Wira Maria Ginting

Institut Kesehatan Medistra Lubuk Pakam

Nadia Husna

Institut Kesehatan Medistra Lubuk Pakam
Keywords:
Soy milk, Breastmilk Production, Postpartum Mother
Abstract
Low breastmilk production is a major problem for new mothers, apart from drowning or flat nipples, swollen breasts, babies who are reluctant to breastfeed because of improper techniques or babies with short tongues.  The purpose of this study was to determine the effect of giving soy milk on increasing breast milk production in post-partum mothers at the Juwita Primary Clinic in 2020. This type of research is a quasi-experimental research design with one group pretest posttest.  The population in this study were all postpartum mothers four to ten days post partum, the sample in this study was 10 respondents using accidental sampling technique in accordance with the inclusion criteria.  Based on the results of this study, it was found that before soy milk intervention was given as many as 70% complained that their milk was a little smooth and 30% smooth, while after being given soy milk intervention, 40% smooth milk and 60% very smooth milk were obtained.  Based on the research results obtained P-value 0.004 <0.05.  This means that there is an effect of giving soy milk on increasing breast milk production in postpartum mothers.  The conclusion is that giving soy milk has a positive effect on increasing breast milk production in postpartum mothers.
Downloads
Download data is not yet available.
References
A., M. (2012). Inisiasi Menyusui Dini, ASI Eksklusif dan Manajemen Laktasi. Jakarta: Trans Info Media.

Bentelu. (2015). Perbedaan Tingkat Kecemasan dalam Proses Menyusui antara Ibu Primipara dan Multipara di RS Pancaran Kasih, Manado . Jurnal Keperawatan.

D., M. (2017). Asuhan Kebidanan pada Ibu Nifas. Yogyakarta: Gosyen Publishing.

Elika. (2018). Pengaruh Susu Kedelai terhadap Peningkatan Produksi ASI pada Ibu Nifas di RB Bina Sehat Bantul. Jurnal Kebidanan, 60.

Maryunani. (2015). Asuhan Ibu Nifas dan Asuhan Ibu Menyusui. Bogor: In Media.

Notoadmojo. (2012). Metode Penelitian. Jakarta: Rinneka Cipta.

Nugroho. (2019). Pengertian Laktasi. Jakarta.

Paramitha. (2019, Maret 07). 2017. (M. Kartini, Interviewer)

Proverawati. (2011). Kapita Selekta ASI dan Menyusui. Yogyakarta: Nuhamedika .

Riyanto. (2011). Metodologi Penelitian Kesehatan. Yogyakarta: Nuha Medika.

Sianturi. (2015). Pengaruh Konsumsi Susu Kedelai terhadap Produksi ASI di Klinik WIPA. Repository USU.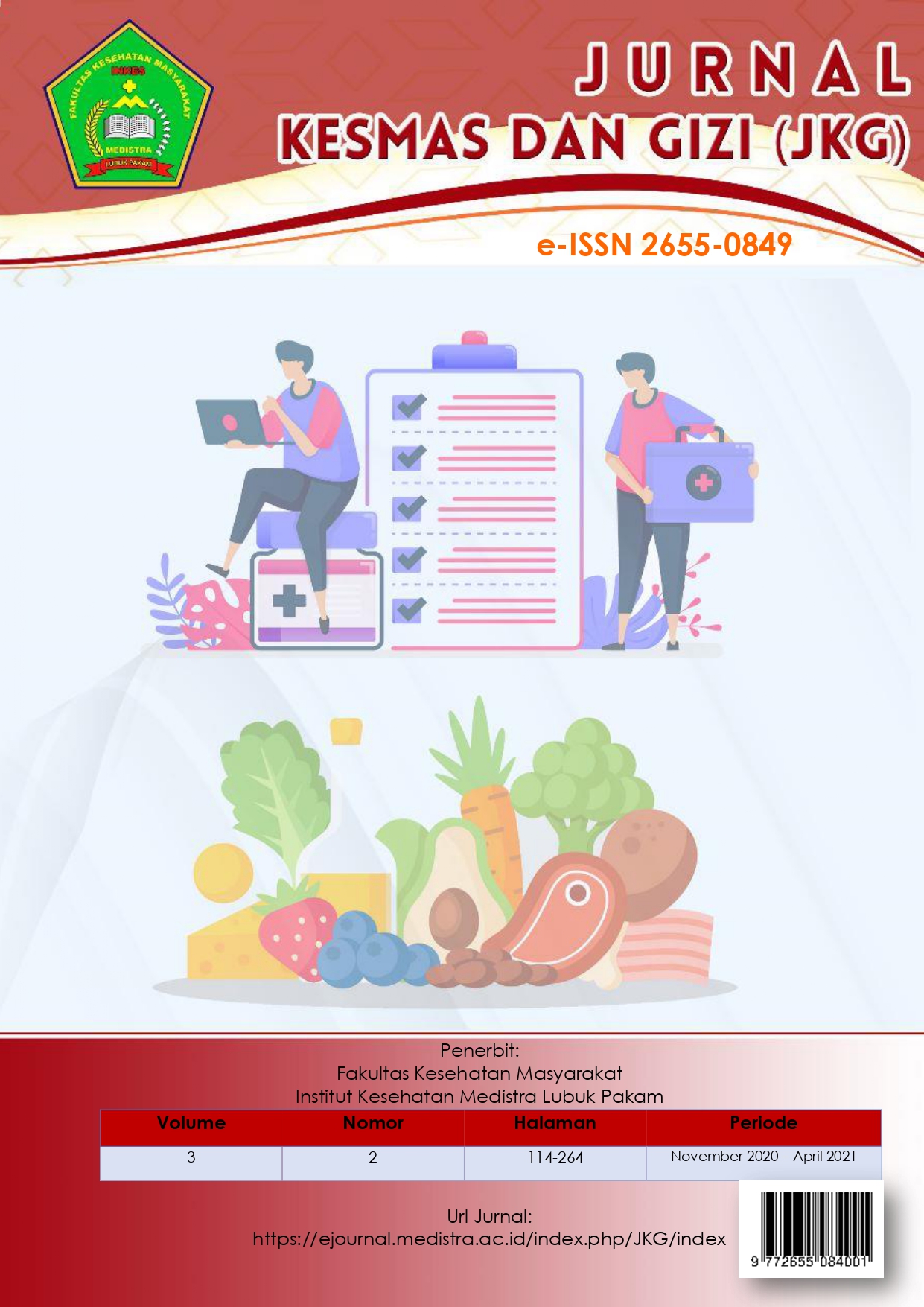 How to Cite
Girsang, desri, Manurung, J., Maria Ginting, W., & Husna, N. (2021). PENGARUH PEMBERIAN SUSU KEDELAI TERHADAP PENINGKATAN PRODUKSI ASI PADA IBU MENYUSUI DI DESA MANGGA DUA DUSUN III KECAMATAN TANJUNG BERINGIN KABUPATEN SERDANG BEDAGAI. JURNAL KESMAS DAN GIZI (JKG), 3(2), 261-264. https://doi.org/10.35451/jkg.v3i2.691
Copyright (c) 2021 desri meriahta Girsang
This work is licensed under a Creative Commons Attribution-NonCommercial-ShareAlike 4.0 International License.
Copyright in each article is the property of the Author.