PENGARUH PEMBERIAN JAMU TEMULAWAK (CURCUMA ZANTHORRHIZA) TERHADAP PENURUNAN NYERI MENSTRUASI (DISMENOREA) PADA REMAJA PUTRI DI SMA NEGERI 1 SELESAI TAHUN 2019
Andayani Boang Manalu

Institut Kesehatan Medistra Lubuk Pakam

Nurul Aini Siagian

Institut Kesehatan Deli Husada Delitua

Putri Ayu Yessy Ariescha

Institut Kesehatan Medistra Lubuk Pakam

Mutiara Dwi Yanti

Institut Kesehatan Deli Husada Delitua

Nency Melinda

Institut Kesehatan Medistra Lubuk Pakam
Keywords:
Curcuma Zanthorrhiza, Menstrual Pain, Adolescent Girls.
Abstract
Dysmenorrhoea is one of the problems in the menstrual process. Dysmenorrhoea often occurs in adolescents and can interfere with daily activities, such as not concentrating learning, lazy to follow activities, can not go to school. For dysminorea, pharmacological and non-pharmacological treatments are needed. Handling nonpharmacology, one of which is giving curcuma herbal medicine. This type of researcher pre-experiment with the design of Quasy Experiment using one group pretest-post test design, which uses a group of subjects and take measurements before and after giving treatment to the subject. The purpose of this study was to determine the effect of the administration of temulawak herbal medicine on the reduction of menstrual pain in young women at SMA Negeri 1 Selesai. The study population was 40 people who experienced menstrual pain and a sample of 20 people used a purposive sampling technique. Data analysis with paired t-test, normality test used analytic shapiro-wilk with Wilcoxon test (signed rank test). Collecting data in the form of observation sheets. The results showed the majority of respondents given herbal ginger did not feel pain 7 people (35%), respondents who experienced mild pain 12 people (60%), and moderate pain there was 1 person (5%). The results of this study indicate the influence before and after the administration of Curcuma Zanthorrhiza medicine with a P-value of 0,000. It is recommended for aolescent Girls to increase their knowledge of natural menstrual pain management by reading references and attending health education, the active role of health workers in providing information about reproductive health to adolescents, especially the management of menstrual pain naturally with temulawak processed.
Downloads
Download data is not yet available.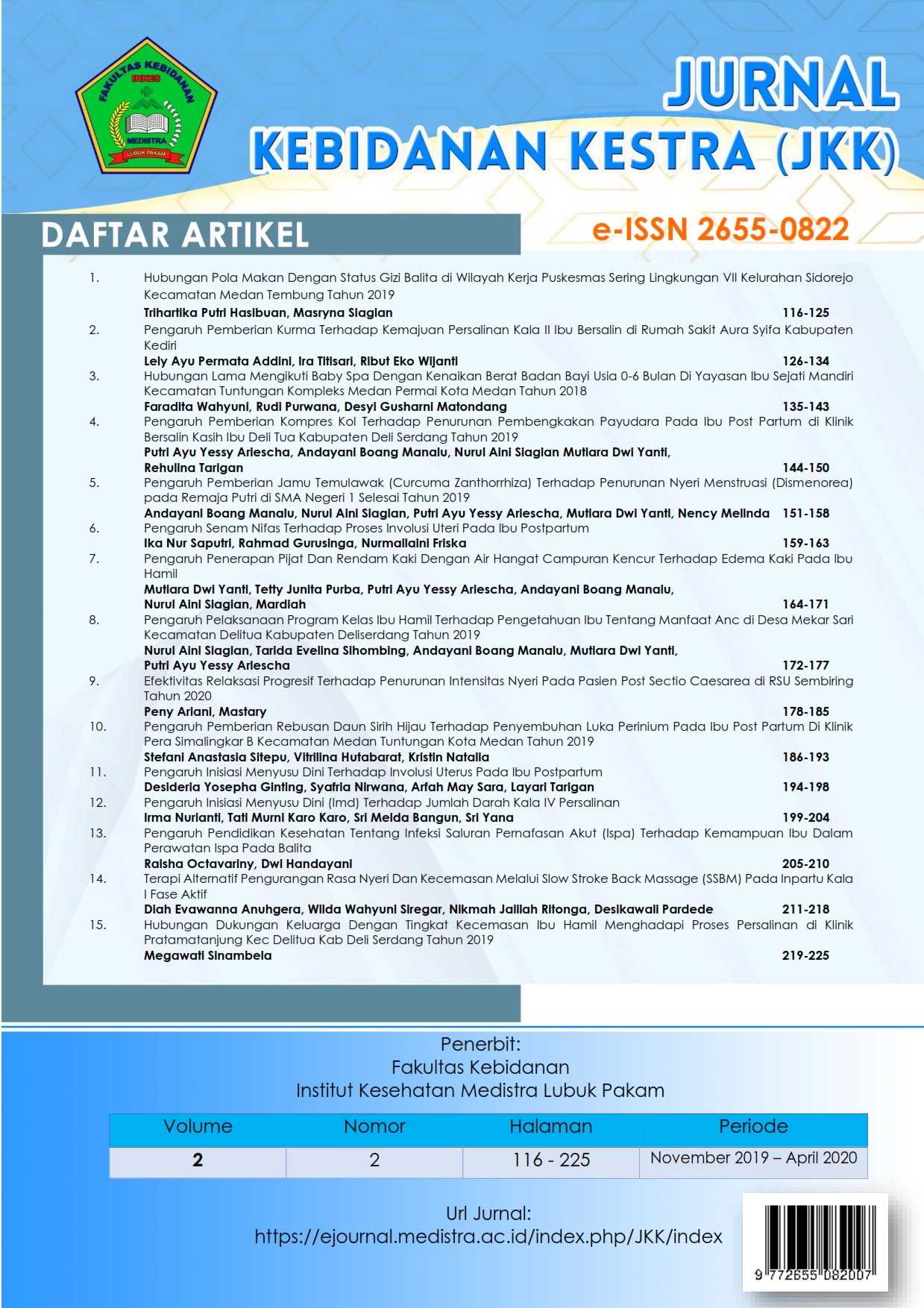 How to Cite
Manalu, A., Siagian, N., Ariescha, P. A., Yanti, M., & Melinda, N. (2020). PENGARUH PEMBERIAN JAMU TEMULAWAK (CURCUMA ZANTHORRHIZA) TERHADAP PENURUNAN NYERI MENSTRUASI (DISMENOREA) PADA REMAJA PUTRI DI SMA NEGERI 1 SELESAI TAHUN 2019. JURNAL KEBIDANAN KESTRA (JKK), 2(2), 151-158. https://doi.org/10.35451/jkk.v2i2.346
Copyright in each article is the property of the Author.