PENGARUH PENERAPAN PIJAT DAN RENDAM KAKI DENGAN AIR HANGAT CAMPURAN KENCUR TERHADAP EDEMA KAKI PADA IBU HAMIL
Mutiara Dwi Yanti

Institut Kesehatan Deli Husada Delitua

Tetty Junita Purba

Institut Kesehatan Deli Husada Delitua

Putri Ayu Yessy Ariescha

Institut Kesehatan Deli Husada Delitua

Andayani Boang Manalu

Institut Kesehatan Deli Husada Delitua

Nurul Aini Siagian

Institut Kesehatan Deli Husada Delitua

Mardiah .

Institut Kesehatan Deli Husada Delitua
Keywords:
Foot Massage, Kaempfaria Galanga L, Foot edema, Pregnant Woman
Abstract
Physiological foot edema was found in about 80% of pregnant women. This occurs due to suppression of the uterus which inhibits venous return. Physiological foot edema if not treated can cause discomfort, feeling heavy, and cramps at night. This study aim to analize the effect of applying foot massage and soaking feet with warm water mixed with kaempfaria galanga L against foot edema in pregnant women in the village of Tulaan Kec. Gunung Meriah district. Aceh Aingkil. This type of research is Quasy Experiment with one group pre-test and post-test design. The population was all The population in this study were all pregnant women who experienced physiological edema of the feet to pregnancy in Tulaan Village, Kec. Gunung Meriah Regency. Aceh Singkil in 2019. The sampling technique was done by total sampling which received 10 respondents and analyzed by Dependent T-Test significance level p = 0.05. The results showed that there was a significant effect on the application of foot massage and foot soaking with warm water mixed with kaempfaria galanga L against foot edema in pregnant women. Significant results indicate that p = 0,00 <0,05. the conclusion in this study is foot massage and soaking the feet with warm water mixed with Kaempfaria Galanga L proven effective in reducing physiological edema in pregnant women. Therefore Kaempfaria Galanga L can be made as a complementary alternative therapy in pregnant women with physiological edema.
Downloads
Download data is not yet available.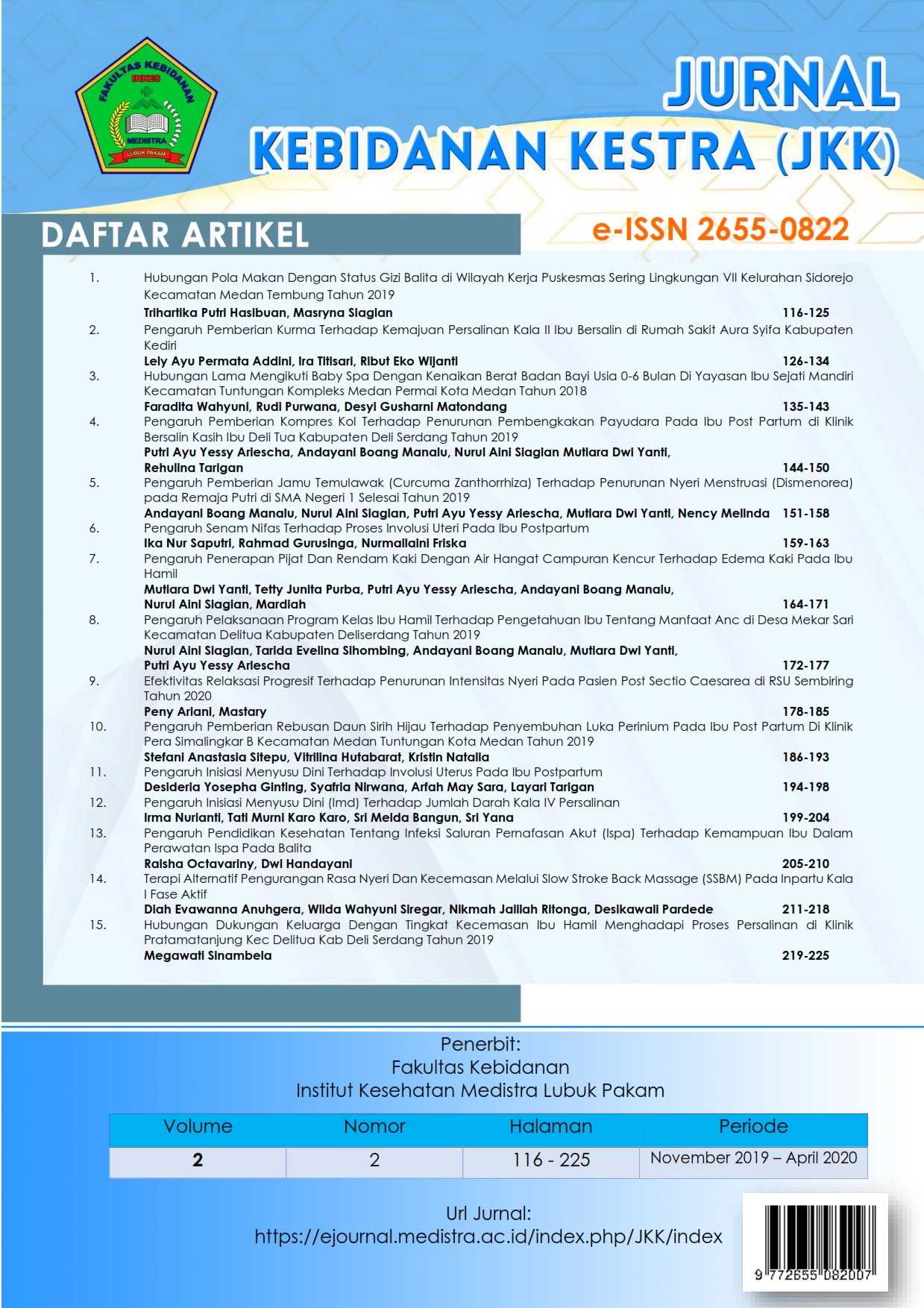 How to Cite
Yanti, M., Purba, T., Ariescha, P. A., Manalu, A., Siagian, N., & ., M. (2020). PENGARUH PENERAPAN PIJAT DAN RENDAM KAKI DENGAN AIR HANGAT CAMPURAN KENCUR TERHADAP EDEMA KAKI PADA IBU HAMIL. JURNAL KEBIDANAN KESTRA (JKK), 2(2), 164-171. https://doi.org/10.35451/jkk.v2i2.375
Copyright in each article is the property of the Author.