TINGKAT PENGETAHUAN PEKERJA SEKS KOMERSIAL TENTANG PENULARAN INFEKSI GONORE DI TEBING TINGGI TAHUN 2014
Mutiara Dwi Yanti

Intitut Kesehatan Medistra

dr Sharma

Institut Kesehatan Medistra Lubuk Pakam
Keywords:
Knowledge, commercial sex workers, gonorrhoea
Abstract
Sexually transmitted diseases can be transmitted through sexual activity. Actors of free sexual activity are usually done by commercial sex workers. The highest number of sexually transmitted diseases is caused by gonorrhea infection. Gonorrhea can be transmitted to others through sexual relations with gonorrhea sufferers and can infect the lining of the urethra, cervix (cervix), rectum, throat or the white part of the eye (conjunctiva). This study aims to determine the level of knowledge of Commercial Sex Workers about the transmission of gonorrhea infections in Tebing Tinggi in 2014. This study used a descriptive research design with a cross-sectional approach. The population in this study was 68 people. Sampling was carried out using 48 accidental sampling. Analysis of the data used is univariate. From the results of the research, it was found that the knowledge of commercial sex workers was mostly at the level of bad knowledge, namely 39.6%. Demographic characteristics based on age mostly <20 years (47.9%), education level at the last elementary school (45.8%), marital status not married (54.2%), length as a CSW <6 months (47.9%) and most respondents did not use condoms (62.5%). The poor level of knowledge of CSWs that can lead to more widespread transmission of gonorrhea infections. So, it is expected that the local health office and social services to provide health education and counseling on the transmission of gonorrhea infection can reduce the incidence of gonorrhea infection
Downloads
Download data is not yet available.
References
Daili, S.F., Makes, W. I. B., Zubier, F. (2011). Infeksi Menular Seksual, edisi 2, Jakarta : Badan Penerbit Fakultas Kedokteran UI.

Djuanda, A., Hamzah, M., Aisyah, S. (2007). Ilmu Penyakit Kulit dan Kelamin. Jakarta : Balai Penerbit Fakultas Kedokteran UI.

Fitriani, S. (2011). Promosi Kesehatan. Yogyakarta. Graha Ilmu

Hidayat, A. L. (2010). Metode Penelitian Kebidanan dan Teknik Analisa Data. Jakarta. Salemba Medica

Humairo, H., Anwar, D., Andriani, K. (2011-2013). Gambaran Pengetahuan dan Sikap Wanita Tuna Susila mengenai Infeksi Menular Seksual. Jurnal Pendidikan Bidan. (diakses tanggal 6 November 2013).

Istiyanto, S. B. (2007). Menguak Konsep Diri Perempuan Pelacur di Lokalisasi Wisata Batu Raden. Skripsi : dipublikasikan.

Kartono, K. (2011). Patologi Sosial – (Jilid I). Jakarta : PT Raya Grafindo Persada.

Lina, N. (2011). Faktor-Faktor Resiko Kejadian Gonore. Prosiding Seminar Nasional "Peran Kesehatan Masyarakat dalam Pencapaian MDG's di Indonesia". 12 April 2011. FKM Universitas Siliwangi.

Murtiastutik, D. (2008). Buku Ajar Infeksi Menular Seksual. Surabaya. Airlangga University Press.

Notoatmodjo, S. (2007). Konsep Perilaku Kesehatan : Promosi kesehatan dan Ilmu Perilaku. Jakarta : Rineka Cipta.

Notoatmodjo, S. (2010). Metodologi Penelitian Kesehatan. Jakarta : Rineka Cipta.

Sari, P. K., Muslim, H. M., Ulfah, S. (2012). Kejadian Infeksi Gonore pada Pekerja Seks Komersial. Jurnal buski. Volume 4, no 1, hal. 29-35. (Diakses pada tanggal 11 November 2013).

Subekti, H. (2011). Upaya Menanggulangi Pelacuran sebagai Penyakit Masyarakat. Jurnal Ilmiah Inkoma. Volume 22 no. 2. (Diakses pada tanggal 11 November 2013).

Sastroasmoro, S., Ismael, S. (2013). Dasar-Dasar Metodologi Penelitian Klinis. Jakarta : Sagung Seto.

Sugibastuti. Koencoro. (1999). Pelacur, Wanita Tuna Susila, dan "Apa Lagi?". Humaniora no. 11. hal 30-34.

Sugiono. (2010). Metode Penelitian Kuantitatif, Kualitatif, dan R & D. Bandung. ALFABETA, cv.

Swajana, I. K. (2012). Metodologi Penelitian Kesehatan : Tujuan Praktis Pembuatan Proposal Penelitian. Yogyakarta : ANDI.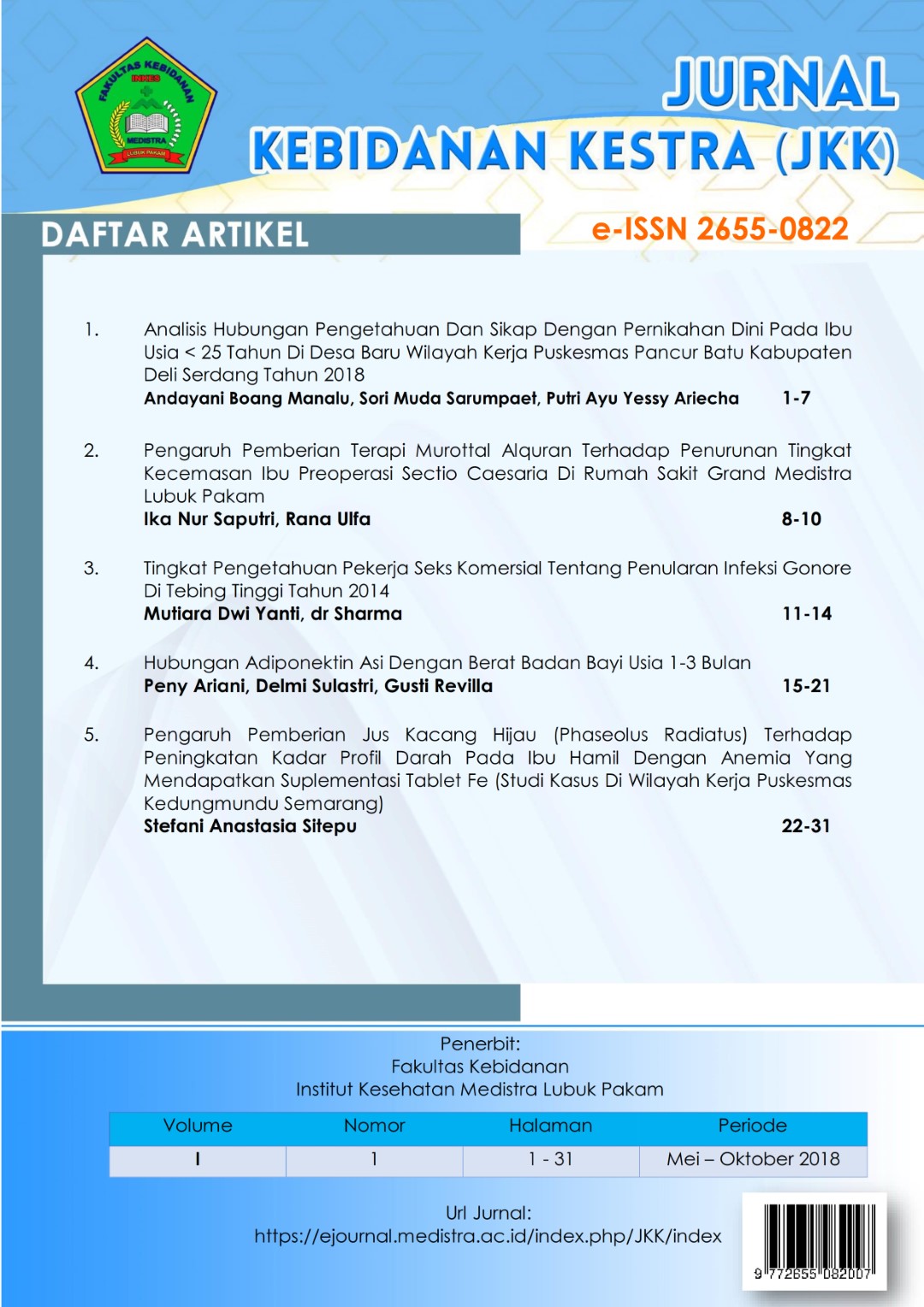 How to Cite
Yanti, M., & Sharma, dr. (2018). TINGKAT PENGETAHUAN PEKERJA SEKS KOMERSIAL TENTANG PENULARAN INFEKSI GONORE DI TEBING TINGGI TAHUN 2014. JURNAL KEBIDANAN KESTRA (JKK), 1(1), 11-14. https://doi.org/10.35451/jkk.v1i1.94
Copyright in each article is the property of the Author.