PENGARUH PEMBERIAN TERAPI MUROTTAL ALQURAN TERHADAP PENURUNAN TINGKAT KECEMASAN IBU PREOPERASI SECTIO CAESARIA DI RUMAH SAKIT GRAND MEDISTRA LUBUK PAKAM
Ika Nur Saputri

Institut Kesehatan Medistra Lubuk Pakam

Rana Ulfa

Institut Kesehatan Medistra Lubuk Pakam
Keywords:
Murottal Al-Quran Therapy, Anxiety, Sectio Caesarean
Abstract
Childbirth with caesarean section can caused anxiety in mother and was a potential and actual threat to the integrity of the mother that makes physiological and psychological stress reactions. One of the therapies given was the administration of murottal Al-Qur'an therapy which has a significant influence in reducing anxiety. The patients who underwent sectio caesarean section at Grandmed Lubuk Pakam Hospital during 2015 were 3,439 peoples and there were 696 peoples in 2016. The method of research was quasi experiment with research design using one group pre-post test without using a comparison group (control). The sample of study consisted of 22 preoperative sectio caesarean patients who were taken by non-probability technique with purposive sampling. Mother Anxiety Level before being given Murottal Al-Quran therapy at moderate anxiety level of 1 person and weighing 21 peoples. Mother Anxiety Level after being given Murottal Al-Quran therapy at mild anxiety level as many as 20 peoples and as many as 2 peoples. The effect of murottal Al-Qur`an therapy on the anxiety level of caesarean preoperative mothers on the average anxiety level of respondents before murottal Al-Qur'an therapy was 42.59 and after 15.23. The results of this study can be input for hospitals to improve health services especially in reducing anxiety levels in preoperative sectio caesaria mothers.
Downloads
Download data is not yet available.
References
Nurjamiah, 2015. Aplikasi Terapi Murottal Al-Qur`an dalam Askep Pasien Pre Operasi Fraktur dengan Kecemasan. Prodi Ners Fakultas Keperawatan Univesitas Sumatera Utara Medan.

Hutabalian, D. 2011. Pengaruh Umur terhadap Persalinan Sectio Caesarea, diakses 11 April 2016, http://repository.usu.ac.id/.

Ibrahim, AS. 2012. Panik Neurosis dan Gangguan Cemas: Tangerang: Jelajah Nusa.

Chapman, V. 2013. Persalinan dan Kelahiran: Asuhan Kebidanan. Jakarta: EGC

Handayani, R. dkk. 2014. Pengaruh Terapi Murottal Al-Qur`an untuk Penurunan Nyeri Persalianan dan Kecemasan pada Ibu Bersalin Kala 1 Fase Aktif. Jurnal ilmiah kebidanan, vol.5 No.2: Purwokerto.

Al-Kaheel, A. 2011. Al-Qur`an the Healing Book. Jakarta : Tarbawi Press.

Ariyanti, M. dkk. 2014. Efektivitas Pemberian Terapi Murottal terhadap Penurunan Tingkat Kecemasan pada Pasien Pre Operasi Fraktur. Jurnal. NTB.

Meifita, S. 2016. Pengaruh Terapi Murottal Al-Qur`an terhadap Penurunan Kecemasan Pasien Post Operasi Sectio Caesarea. Skripsi. S1 Keperawatan Stikes Muhammadiyah Gombang.

Sukartinah, 2016. Hubungan Tingkat Kecemasan dengan Status Hemodinamik pada Pasien Pre Operasi Sectio Caesaria di ruang IBS RSUD dr. Soediran Mangun Sumarso Wonogiri, Skripsi. STIKes Kusuma Husada Surakarta.

Faradisi. 2012. Efektivitas Terapi Murottal dan Terapi Musik terhadap Penurunan Tingkat Kecemasan pada Pasien Pre Operasi Fraktur. Jurnal. Prodi S1 Keperawatan.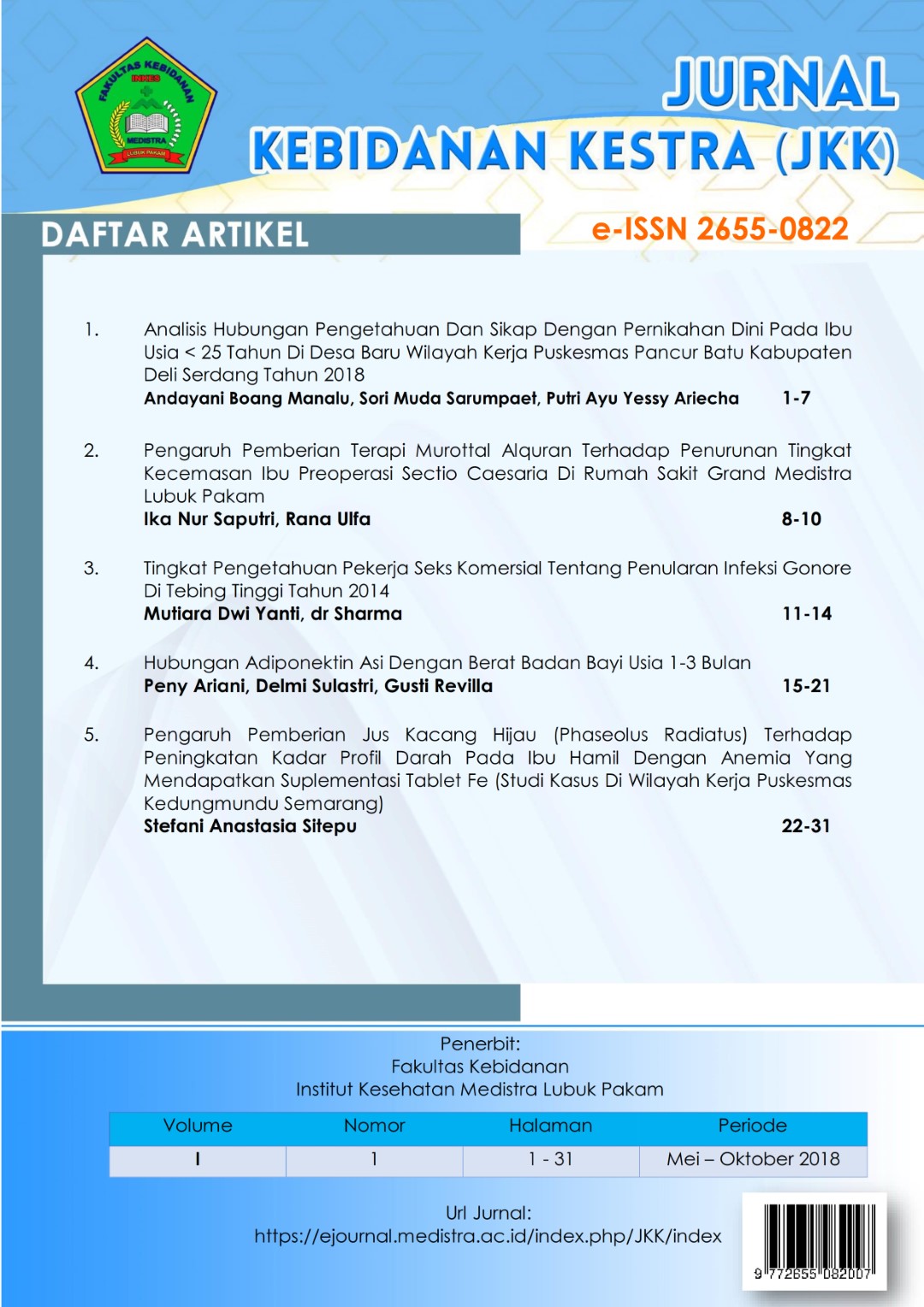 How to Cite
Saputri, I., & Ulfa, R. (2018). PENGARUH PEMBERIAN TERAPI MUROTTAL ALQURAN TERHADAP PENURUNAN TINGKAT KECEMASAN IBU PREOPERASI SECTIO CAESARIA DI RUMAH SAKIT GRAND MEDISTRA LUBUK PAKAM. JURNAL KEBIDANAN KESTRA (JKK), 1(1), 8-10. https://doi.org/10.35451/jkk.v1i1.93
Copyright in each article is the property of the Author.