PENGARUH SENAM NIFAS TERHADAP PROSES INVOLUSI UTERI PADA IBU POSTPARTUM
Ika Nur Saputri

Institut Kesehatan Medistra Lubuk Pakam

Rahmad Gurusinga

Institut Kesehatan Medistra Lubuk Pakam

Nurmailaini Friska

Institut Kesehatan Medistra Lubuk Pakam
Keywords:
Puerperal Exercise, Speed of Uterine Involution, Postpartum.
Abstract
Postpartum hemoragic is caused by unfavorable uterine involution, therefore early ambulation with puerperal gymnastics is necessary. Puerperal gymnastics is one way for early mobilization that is highly recomended for post partum mothers so that the process of involution is smooth. The purpose of the study was to determine the effect of puerperal gymnastics by uterine involution in post partum in midwife clinick Nining Pelawati in lubuk pakam sub-district with terrain city in 2019. The research medhod is a pre-experiment with respondent totaling 30 normal post partum mothers at the seka sriwahyuni midwife clinic consisting of 15 morhers who performed puerperal gymnastics (eksperimental respondent group). And 15 mothers who did not do purperal gymnastics (group of control respondents). Data collection uses observation while the formula uses the dependent t-test, the results of the study of the speed of uterine involution in mothers who do puerperal gymnastics are mostly in the fast category as much as 8 people (53,3%), the rest are in the normal categori as many as 5 people (33,3%), while those in the slow category do not exit (0,00%). The rate of uterine involution in pospartum women who do not do partuirition gymnastics in the majority in the slow category in 9 people (60,6%), the rest are in the normal category as 4 people (26,6%), while in the fast category as many as 2 people (13,3%). It can be concluded differences in changen in uterine involution between intervention groups ang control groups.
Downloads
Download data is not yet available.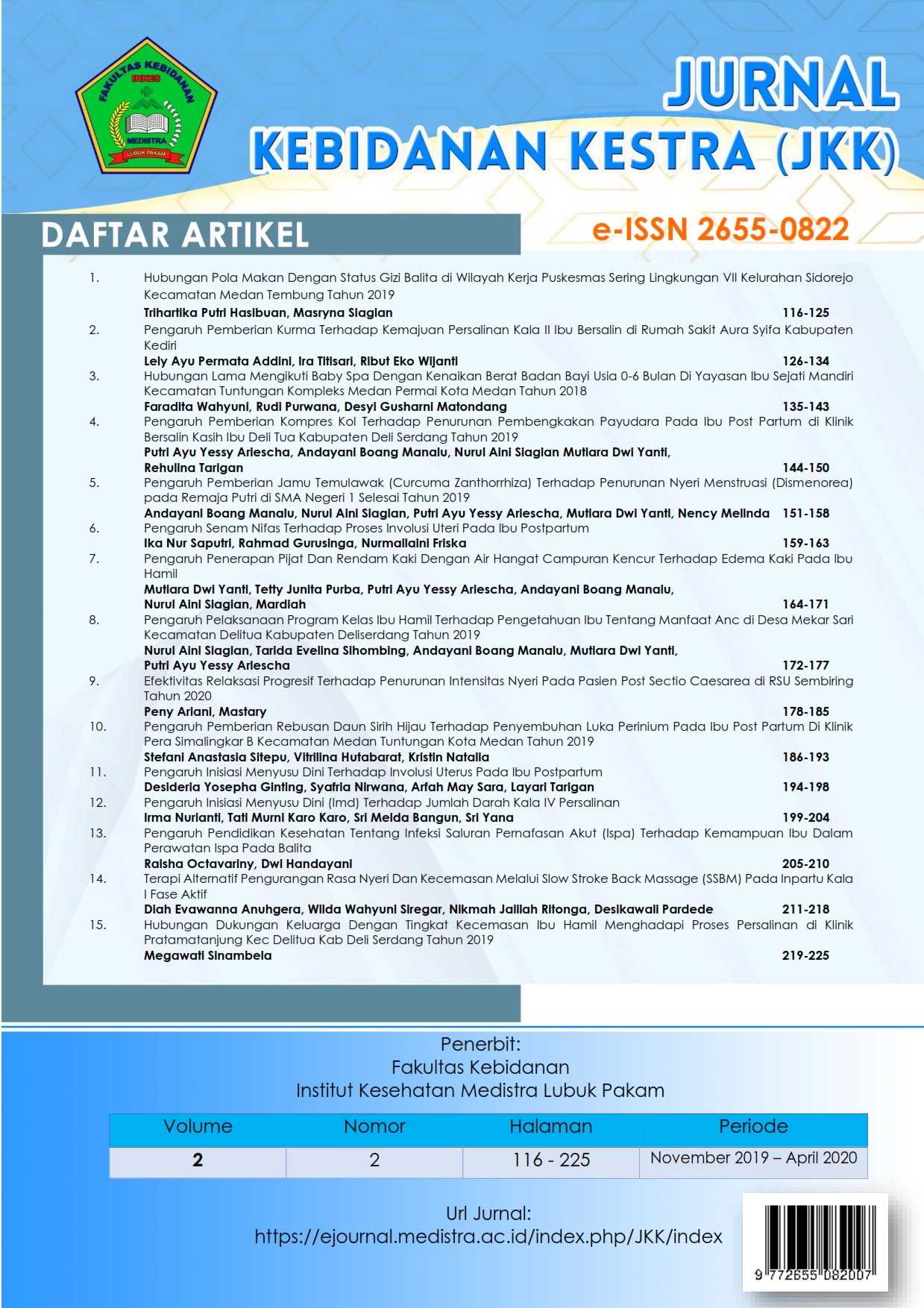 How to Cite
Saputri, I., Gurusinga, R., & Friska, N. (2020). PENGARUH SENAM NIFAS TERHADAP PROSES INVOLUSI UTERI PADA IBU POSTPARTUM. JURNAL KEBIDANAN KESTRA (JKK), 2(2), 159-163. https://doi.org/10.35451/jkk.v2i2.347
Copyright in each article is the property of the Author.