COMPARISON OF GENERAL PATIENT SATISFACTION LEVEL WITH BPJS PATIENTS IN MAIN INSTALLATION SERVICES GRAND LUBUK PAKAM HOSPITAL
Keleng Ate Ginting

INKES MEDISTRA LUBUK PAKAM

Fina Aulia

Institut Kesehatan Medistra Lubuk Pakam
Keywords:
BPJS , General, Satisfaction, Service
Abstract
Consumer satisfaction with the services received can be measured by comparing expectations with the quality of service they receive. If the consumer expects service at a certain level and the service he receives is higher than he expected then the consumer is very satisfied. The research method used in this study is a study using a cross sectional approach that aims to see a comparison of the level of satisfaction of general patients with BPJS patients in outpatient installation services. Independent variables in this study are the satisfaction of general patients and BPJS and for Dependent Variables in this study is a service at the Outpatient Installation at Grandmed Lubuk Pakam Hospital. The research subjects in this study were all BPJS patients and outpatient generals at Grandmed Lubuk Pakam Hospital which numbered 30 respondents. The data collection used in this study was by questionnaires and interviews. Primary data collected.
Downloads
Download data is not yet available.
References
Kolin Adelheit DP, 2020. Perbandingan tingkat kepuasan pasien JKN dan Non JKN terhadap pelayanan instalasi farmasi rawat jalan di RS Condong Catur, Yogyakarta
Muliana Yulenda 2019 skripsi Perbandingan Tingkat Kepuasan Pelayanan Kesehatan Rawat Jalan Pada Pasien Bpjs Dan Non Bpjs Berdasarkan Metode Servqual Di Rsud Kota Dumai.
Puspitasari AD, dkk 2020 perbedaan tingkat kepuasan pasien umum dengan pasien BPJS berdasarkan mutu pelayanan keperawatan. Dunia keperawatan: Jurnal Keperawatan dan kesehatan DO.I: 10.20527/ dk: v8il. 5869. Received Januari 2019; Accepted Maret [email protected] 2020 Eissn: 2541-5980; pISSN; 2337-8212.
Yanuarti Riska, dkk 2021 Tingkat kepuasan pasien BPJS dan Pasien Umum. Jurnal Kesmas Asclepius
Volume 3, Nomor 1, Juni 2021
e-ISSN: 2684-8287 p-ISSN: 2656-8926 DOI:https://doi.org/
31539/jka.v3i1.2311.
Mentari. W.D., dkk 2021 status kepesertaan jaminan kesehatan nasional (JKN) dan kepuasaan pasien di RSUD Sumedang 2-TRIK: Tunas-Tunas Riset Kesehatan, Volume 11 Nomor 1p-ISSN 2089-4686 e-ISSN 2548-5970.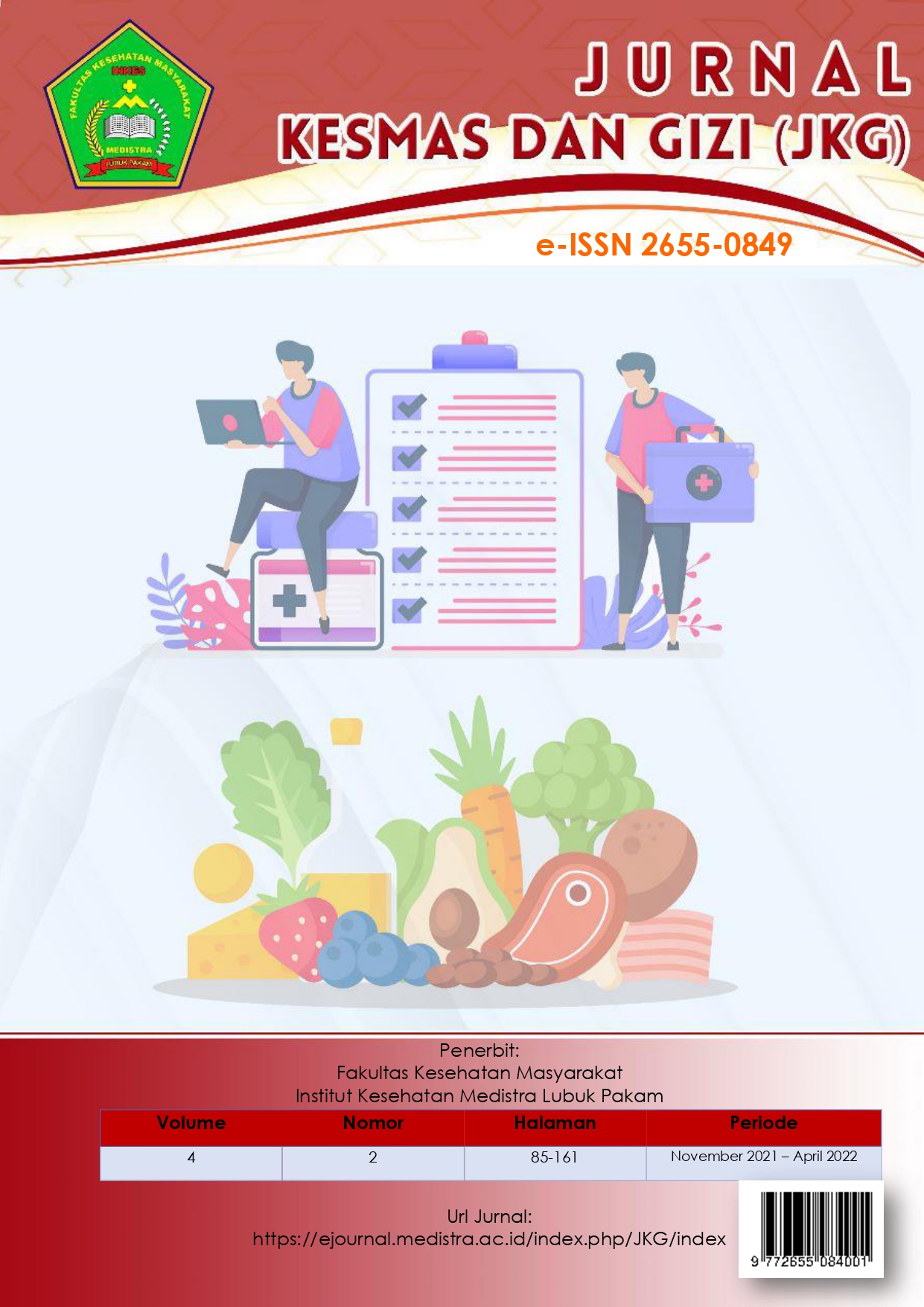 How to Cite
Ginting, K., & Aulia, F. (2022). COMPARISON OF GENERAL PATIENT SATISFACTION LEVEL WITH BPJS PATIENTS IN MAIN INSTALLATION SERVICES GRAND LUBUK PAKAM HOSPITAL. JURNAL KESMAS DAN GIZI (JKG), 4(2), 108-110. https://doi.org/10.35451/jkg.v4i2.1068
Copyright (c) 2022 Keleng Ate Ginting, Fina Aulia
This work is licensed under a Creative Commons Attribution-NonCommercial-ShareAlike 4.0 International License.
Copyright in each article is the property of the Author.