PENGARUH PEMBERIAN JUS BAYAM MERAH (AMARANTHUS GANGETICUS) TERHADAP PENINGKATAN KADAR HEMOGLOBIN PADA IBU HAMIL PENDERITA ANEMIA DI KLINIK SALMA KEC.PERBAUNGAN TAHUN 2020
Keleng Ate Ginting

INKES MEDISTRA LUBUK PAKAM

Raini Panjaitan

Institut Kesehatan Medistra Lubuk pakam

Andreais Boffil Cholilullah

Institut Kesehatan Medistra Lubuk pakam

Anggi Isnani Parinduri

Institut Kesehatan Medistra Lubuk pakam

Resty Tri Yanti

Institut Kesehatan Medistra Lubuk pakam
Keywords:
Red spinach, Haemoglobin
Abstract
Anemia in pregnant women greatly affects iron deficiency, because in pregnancy the need for oxygen is higher, which triggers an increase in erythropoietin production (Cunninggham, 2016). (WHO, 2010), globally the prevalence of anemia in pregnant women worldwide is 41.8%. The prevalence of anemia in pregnant women in Indonesia increased compared to 2013, in 2013 as many as 37.1% of pregnant women were anemic while in 2018 it increased to 48.9% (Riskesdas, 2018). One alternative to meet iron needs can be done by consuming vegetables, one of which is red spinach. The aim is to determine the effect of giving red spinach juice on increasing hemoglobin levels in pregnant women with anemia at the Salma Clinic, Perbaungan district in 2020. The method of pre-experimental research was one group pretest-posttest study design. The population in this study were all 28 pregnant women. January to May 2020. Sampling using purposive sampling technique. To determine the differences in the production of Hb levels before and after intervention in pregnant women and Hb Check. The statistical test used in this study was the paired sample T-Test, if the p value was ≤ 0.05. The results of the analysis test using paired sample t-test in the experimental group obtained a value of p = 0.025 <(α = 0.05), it can be concluded that the hypothesis in this study was accepted, namely the effect of giving red spinach juice on pregnant women with anemia at the Salmah Perbaungan Clinic, Serdang Bedagai Regency
Downloads
Download data is not yet available.
References
Almatsier, 2009. Prinsip Dasar Ilmu Gizi . Jakarta : PT Gramedia Pustaka
Arikunto, Suharsini. 2010. Prosedur Penelitian Suatu Pendekatan Praktik. Jakarta: Rineka Cipta
Cunninggham, 2016. Obstetri Williams Edisi 21. Jakarta : EGC
Fikawaki, 2015. Gizi Ibu dan Anak, Depok : PT RajaGrafindo Persada
Gandy, 2016. Gizi dan Dietetika Edisi 2. Jakarta : EGC
Gibney, 2009. Gizi Kesehatan Masyarakat. Jakarta :EGC
Hidayat, Alimul Aziz. 2008. Keterampilan Dasar praktik Klinik Untuk Kebidanan, Jakarta: Salemba Medika
Irianto, 2016. Gizi Seimbang dama kesehatan Reproduksi (Balanced Nutririon In Reproductive Health). Bandung : Penerbit Alafabeta
Khomsan, Ali, MS. Prof. Dr. Ir. 2011. Terapi Jus Untuk Rematik dan Asam Urat, Bandung: Sehat Keluarga
Kusmiyati, Yuni, S. T. dkk 2009. Perawatan Ibu Hamil, Yogyakarta: FitramayaManuaba Ida Bagus Gede. Prof,dr dkk (2010), Ilmu Kebidanan, Penyakit Kandungan, dan KB. Jakarta: EGC
Riset Kesehatan Dasar (Rikesdes), 2018. Badan Penelitian dan pengembangan Kesehatan Kementrian RI tahun 2018. http//www.depkes.go.id/resources/download/infoterkini/materi rakorpop2018/Hasil%20Rikesdes%202018.pdf- Diakes Agustus 2018.
Sulihandri, 2013. Panduan Terapi Sayuran. Jakarta Selatan : PT. Agro Media Pustaka
Thomas. 2008. Tanaman Obat Tradisional, Yogyakarta: KANISUS (Anggota IKAPI)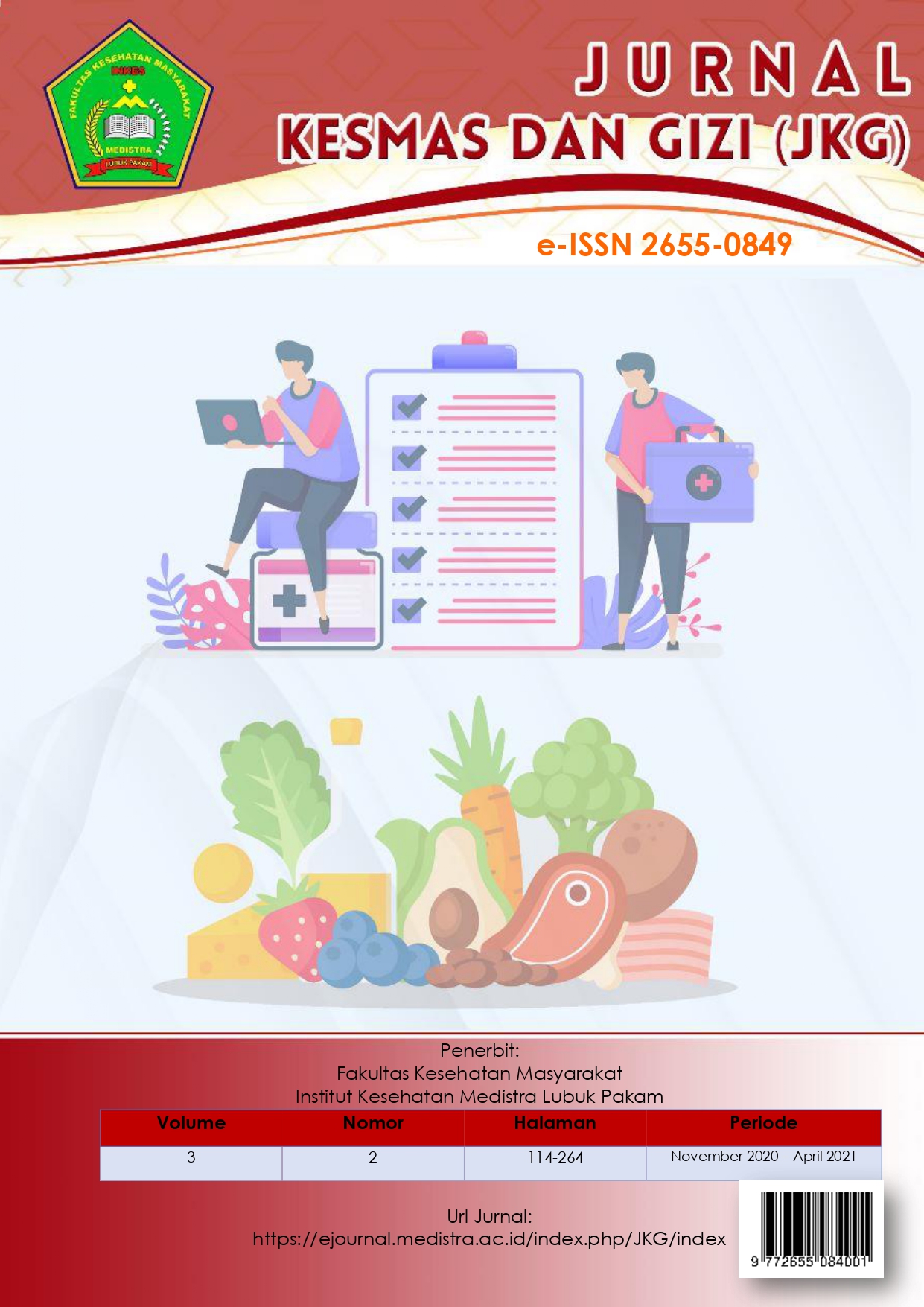 How to Cite
Ginting, K., Panjaitan, R., Boffil Cholilullah, A., Isnani Parinduri, A., & Tri Yanti, R. (2021). PENGARUH PEMBERIAN JUS BAYAM MERAH (AMARANTHUS GANGETICUS) TERHADAP PENINGKATAN KADAR HEMOGLOBIN PADA IBU HAMIL PENDERITA ANEMIA DI KLINIK SALMA KEC.PERBAUNGAN TAHUN 2020. JURNAL KESMAS DAN GIZI (JKG), 3(2), 202-206. https://doi.org/10.35451/jkg.v3i2.663
Copyright (c) 2021 Keleng Ate Ginting, Raini Panjaitan, Andreais Boffil Cholilullah, Anggi Isnani Parinduri, Resty Tri Yanti
This work is licensed under a Creative Commons Attribution-NonCommercial-ShareAlike 4.0 International License.
Copyright in each article is the property of the Author.