Correlation Between Anemia And The Incidence Of Low Birth Weight (LBW)
Abstract
Low Birth Weight (LBW)  is newborn who weight less than 2,500 grams. LBW also has an impact on infant namely anemia, hypothermic, hyperbilirubinemia, hypoglyglyemi, respiratory syndrome. One major factor causes anemia during pregnancy. The update of this study is to discuss the relationship between anemia and LBW in developing countries, especially in the continents of Asia and Africa. The purpose of this study is to learn about anemia and LBW in developing countries on the Asian and African continents with literature review. The study design used is the study literature review by scoping study. A journal or article search involves using a keyword or keyword that "anemia to LBW, anemia in pregnancy, Low Birth Weight, LBW" and by using the designated inclusion and exclusion criteria. Assessments of the quality of articles or journals are made by using critical appraisal and will be carried out in 2021. Obtained 11 article publications from 2014 to 2020. From th review result showed that there is a correlation between anemia and low birth weight baby or LBW. The number of anemia in pregnancy does not always determine the number of babies born with LBW. Anemia in pregnancy can be the cause of the LBW baby.
Downloads
Download data is not yet available.
References
Adam, I., Elhassan, E. M., Haggaz, A. E. D., Ali, A. A. A., & Adam, G. K. (2011). A perspective of the epidemiology of malaria and anaemia and their impact on maternal and perinatal outcomes in Sudan. Journal of Infection in Developing Countries, 5(2), 83–87. https://doi.org/10.3855/jidc.1282
Aryanti, M. (2017). DETERMINAN BERAT BAYI LAHIR RENDAH (BBLR) DI RSUD INDRAMAYU KABUPATEN INDRAMAYU PROVINSI JAWA BARAT TAHUN 2016. JURNAL KESEHATAN INDRA HUSADA, 5(2), 49–57. https://doi.org/10.36973/jkih.v5i2.46
Girma, S., Fikadu, T., Agdew, E., Haftu, D., Gedamu, G., Dewana, Z., & Getachew, B. (2019). Factors associated with low birthweight among newborns delivered at public health facilities of Nekemte town, West Ethiopia: A case control study. BMC Pregnancy and Childbirth, 19(1), 220. https://doi.org/10.1186/s12884-019-2372-x
Kumlachew, W., Tezera, N., & Endalamaw, A. (2018). Below normal birth weight in the Northwest part of Ethiopia. BMC Research Notes, 11(1), 611. https://doi.org/10.1186/s13104-018-3723-9
Kusumawati, E. (2017). A Systematic Review againts Risk Factors on The Low-weight Birth Incidence in Indonesia. Journal of Health Science and Prevention, 1(1), 38–44. https://doi.org/10.29080/jhsp.v1i1.16
Labir, I. K. (2013). Anemia Ibu Hamil Trimester I dan II Meningkatkan Risiko Kejadian Berat Bayi Lahir Rendah di RSUD Wangaya Denpasar. Public Health and Preventive Medicine Archive, 1(1), 21518.
Lake, E. A., & Olana Fite, R. (2019). Low Birth Weight and Its Associated Factors among Newborns Delivered at Wolaita Sodo University Teaching and Referral Hospital, Southern Ethiopia, 2018. International Journal of Pediatrics, 2019, 4628301. https://doi.org/10.1155/2019/4628301
Lopez, A., Cacoub, P., Macdougall, I. C., & Peyrin-Biroulet, L. (2016). Iron deficiency anaemia. The Lancet, 387(10021), 907–916. https://doi.org/10.1016/S0140-6736(15)60865-0
Low Birth Weight. (2012). In C. A. Riccio, J. R. Sullivan, & M. J. Cohen, Neuropsychological Assessment and Intervention for Childhood and Adolescent Disorders (pp. 307–333). John Wiley & Sons, Inc. https://doi.org/10.1002/9781118269954.ch12
Marlenywati, M., Hariyadi, D., & Ichtiyati, F. (2015). Faktor-Faktor yang Mempengaruhi Kejadian BBLR RSUD Dr. Soedarso Pontianak. Jurnal Vokasi Kesehatan, 1(5), 154–160. https://doi.org/10.30602/jvk.v1i5.31
Mingude, A. B., Gebretsadik, W., Misker, D., & Woldeamanuel, G. G. (2020). Determinants of low birth weight among live birth newborns delivered at public hospitals in Gamo Gofa Zone, South Ethiopia: Unmatched case control study. SAGE Open Medicine, 8, 2050312120940544. https://doi.org/10.1177/2050312120940544
Monita, F. (2015). Hubungan Usia, Jarak Kelahiran dan Kadar Hemoglobin Ibu Hamil dengan Kejadian Berat Bayi Lahir Rendah di RSUD Arifin Achmad Provinsi Riau (Issue 2) [Journal:eArticle, Universitas Riau]. https://www.neliti.com/publications/186716/hubungan-usia-jarak-kelahiran-dan-kadar-hemoglobin-ibu-hamil-dengan-kejadian-ber
Muhida, V. (2019). FAKTOR RISIKO TERJADINYA BERAT LAHIR RENDAH (BBLR) DI RSUD dr. DRADJAT PRAWIRANEGARA SERANG TAHUN 2017. Journal Of Applied Health Research And Development, 5(1), 27–45.
Nelwan, J. E. (2019). Epidemiologi Kesehatan Reproduksi. Deepublish.
Patel, A., Prakash, A. A., Das, P. K., Gupta, S., Pusdekar, Y. V., & Hibberd, P. L. (2018). Maternal anemia and underweight as determinants of pregnancy outcomes: Cohort study in eastern rural Maharashtra, India. BMJ Open, 8(8), e021623. https://doi.org/10.1136/bmjopen-2018-021623
Patel, R. M., Knezevic, A., Shenvi, N., Hinkes, M., Keene, S., Roback, J. D., Easley, K. A., & Josephson, C. D. (2016). Association of Red Blood Cell Transfusion, Anemia, and Necrotizing Enterocolitis in Very Low-Birth-Weight Infants. JAMA, 315(9), 889–897. https://doi.org/10.1001/jama.2016.1204
Priyanto, L. D. (2018). The Relationship of Age, Educational Background, and Physical Activity on Female Students with Anemia. Jurnal Berkala Epidemiologi, 6(2), 139. https://doi.org/10.20473/jbe.V6I22018.139-146
Riastawaty, D. (2019). Hubungan antara Umur, Paritas dan Anemia dengan Kejadian Berat Badan Lahir Rendah (Bblr) di RSUD Raden Mattaher Jambi Tahun 2016—2017. Scientia Journal, 8(1), 270–277. https://doi.org/10.5281/scj.v8i1.472
Rusmawan, U. (2019). Teknik Penulisan Tugas Akhir dan Skripsi Pemrograman. Elex media komputindo.
Saeed, O. A. M., Ahmed, H. A., Ibrahim, A. M. F., Mahmood, E. A. A., & Abdu-Allah, T. O. A. (2014). Risk factors of low birth weight at three hospitals in Khartoum State, Sudan. Sudanese Journal of Paediatrics, 14(2), 22–28.
Sulistyorini, D., & Putri, S. S. (2015). ANALISIS FAKTOR-FAKTOR YANG MEMPENGARUHI KEJADIAN BBLR DI PUSKESMAS PEDESAAN KABUPATEN BANJARNEGARA TAHUN 2014. Jurnal Ilmiah Medsains, 1(1), 23–29.
Virgo, G., & Halimah, T. (2019). HUBUNGAN ANEMIA PADA IBU HAMIL DENGAN KEJADIAN BERAT BAYI LAHIR RENDAH (BBLR) DI RSUD BANGKINANG TAHUN 2018. Jurnal Ners, 3(2), 19–31.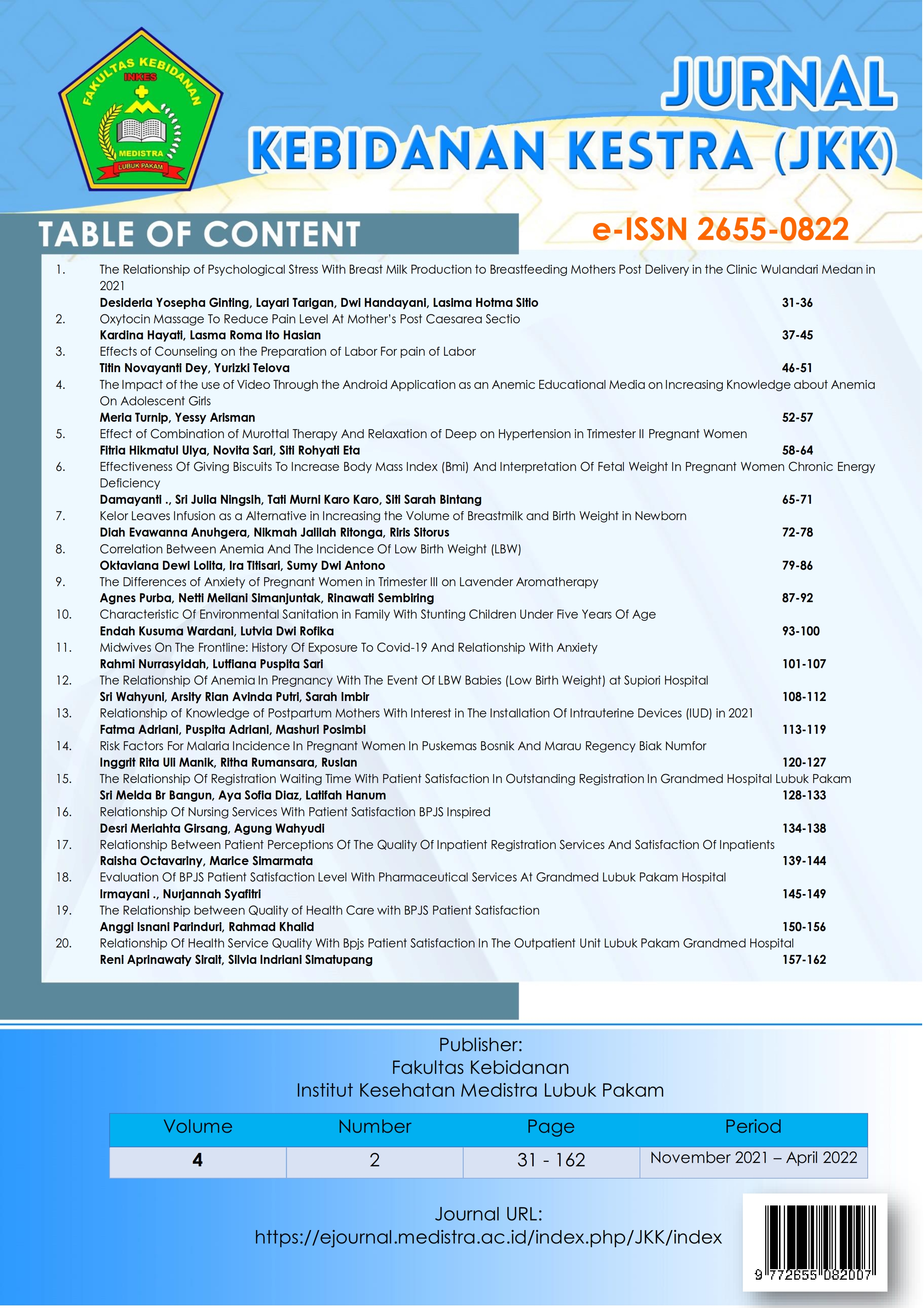 Downloads
How to Cite
Lolita, O. D., Titisari, I., & Antono, S. D. (2022). Correlation Between Anemia And The Incidence Of Low Birth Weight (LBW). JURNAL KEBIDANAN KESTRA (JKK), 4(2), 79–86. https://doi.org/10.35451/jkk.v4i2.1028
License
Copyright in each article is the property of the Author.