HUBUNGAN PREEKLAMSI DENGAN KEJADIAN BAYI BERAT LAHIR RENDAH (BBLR) DI RSUD GAMBIRAN KOTA KEDIRI
Ira Titisari

Poltekkes Kemenkes Malang

Sumy Dwi Antono

Poltekkes Kemenkes Malang

Imroatul Chumaida

Poltekkes Kemenkes Malang
Keywords:
Pre eclampsia, Low Birth Weight (LBW)
Abstract
Low birth weight is still a nutritional problem which has serious consequences for the quality of human resources in Indonesia. Low birth weight is a major cause of increased mortality, morbidity and disability in neonates, infants and children.  Pre eclampsia are the causes of low birth weight. When high blood pressure presents the uteroplacental circulation decreases which results in the drainage of nutrients, oxygen, and the release of metabolic results being disrupted , allowing the low birth weight baby. Previous research explained that maternal and diastolic blood pressure associated with the baby's weight . This study aims to determine the relationship of preeclampsia with the incidence of low birth weight babies (LBW) in Gambiran Hospital, Kediri. This type of research uses observational analytic with a retrospective study approach and uses the Spearman rank test . The population in this study were all medical records of low birth weight babies (LBW ) in January - December 2018 who were born at Gambiran Hospital, Kediri City. The sampling technique used is simple random sampling . The sample size used 118 respondents who have met the inclusion criteria and exclusion criteria. The results obtained from the Spearman rank correlation test with a p value of 0.031 < 0.05, the value of the 1,000 Correlation Coefficient and has the direction of positive (+) correlation. As a conclusion, there was a significant relationship between preeclampsia and the incidence of LBW in Gambiran Hospital , Kediri City , the relationship between two variables was impactful, and the direction of relations between two positive variables . Based on this research, it is expected that health workers will increase their efforts to prevent low birth weight (LBW ) in newborns by early detection on risk factors of low birth weight babies (LBW ) .
Downloads
Download data is not yet available.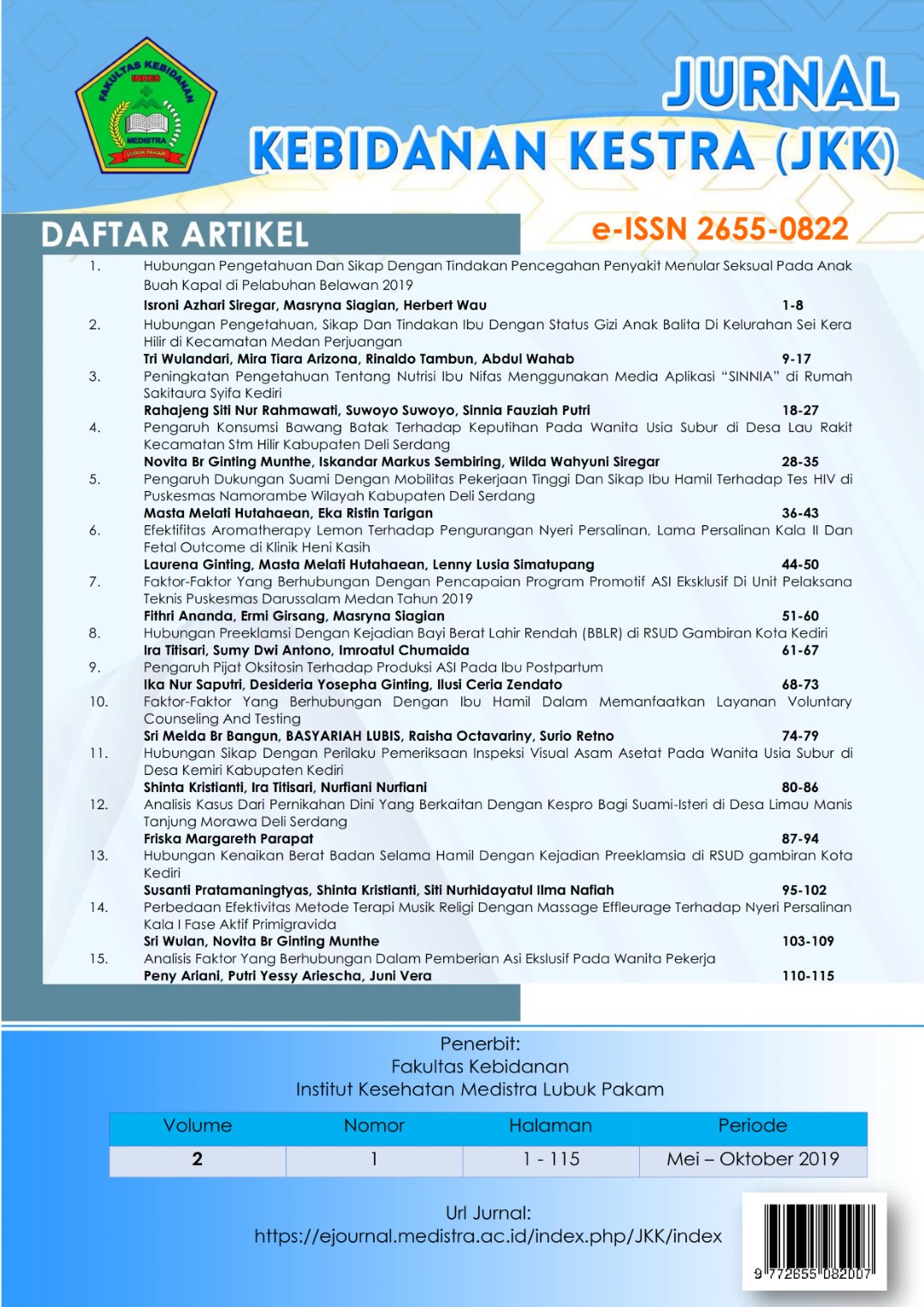 How to Cite
Titisari, I., Antono, S., & Chumaida, I. (2019). HUBUNGAN PREEKLAMSI DENGAN KEJADIAN BAYI BERAT LAHIR RENDAH (BBLR) DI RSUD GAMBIRAN KOTA KEDIRI. JURNAL KEBIDANAN KESTRA (JKK), 2(1), 61-67. https://doi.org/10.35451/jkk.v2i1.247
Copyright in each article is the property of the Author.