PENGARUH PEMBERIAN KURMA TERHADAP KEMAJUAN PERSALINAN KALA II IBU BERSALIN DI RUMAH SAKIT AURA SYIFA KABUPATEN KEDIRI
Lely Ayu Permata Addini

Poltekkes Kemenkes Malang

Ira Titisari

Poltekkes Kemenkes Malang

Ribut Eko Wijanti

Poltekkes Kemenkes Malang
Keywords:
Date Palm, The Second Stage Of Labor
Abstract
Progress of labor depends on three factors: (power) is the efficiency of uterine contractions, passenger (fetal) and passage (uterus, cervix, pelvis). When there are any abnormalities in one or more of the factors above it can slow the progress of delivery process. Dates rich in carbohydrates as a source of energy, affect the progress of labor, spontaneity in labor and reduce postpartum hemorrhage. Carbohydrates as a booster are sugars that are absorbed and used by body cells not long after consumed. The purpose of this study was to determine the effect of dates on the progress of the second stage of labor in Aura Syifa Hospital Kediri Regency. The research design used was pre-experimental (pre experimental design) with a static group approach (the static group comparison). The samples were 32 respondents who were determined by accidental sampling technique. In this research the data analysis used was Fisher Exact Probability test. Based on the statistic test result that there was no influence of Providing Date Palm to the mother in labor at second progress of labor in Kediri Aura Syifa Hospital.
Downloads
Download data is not yet available.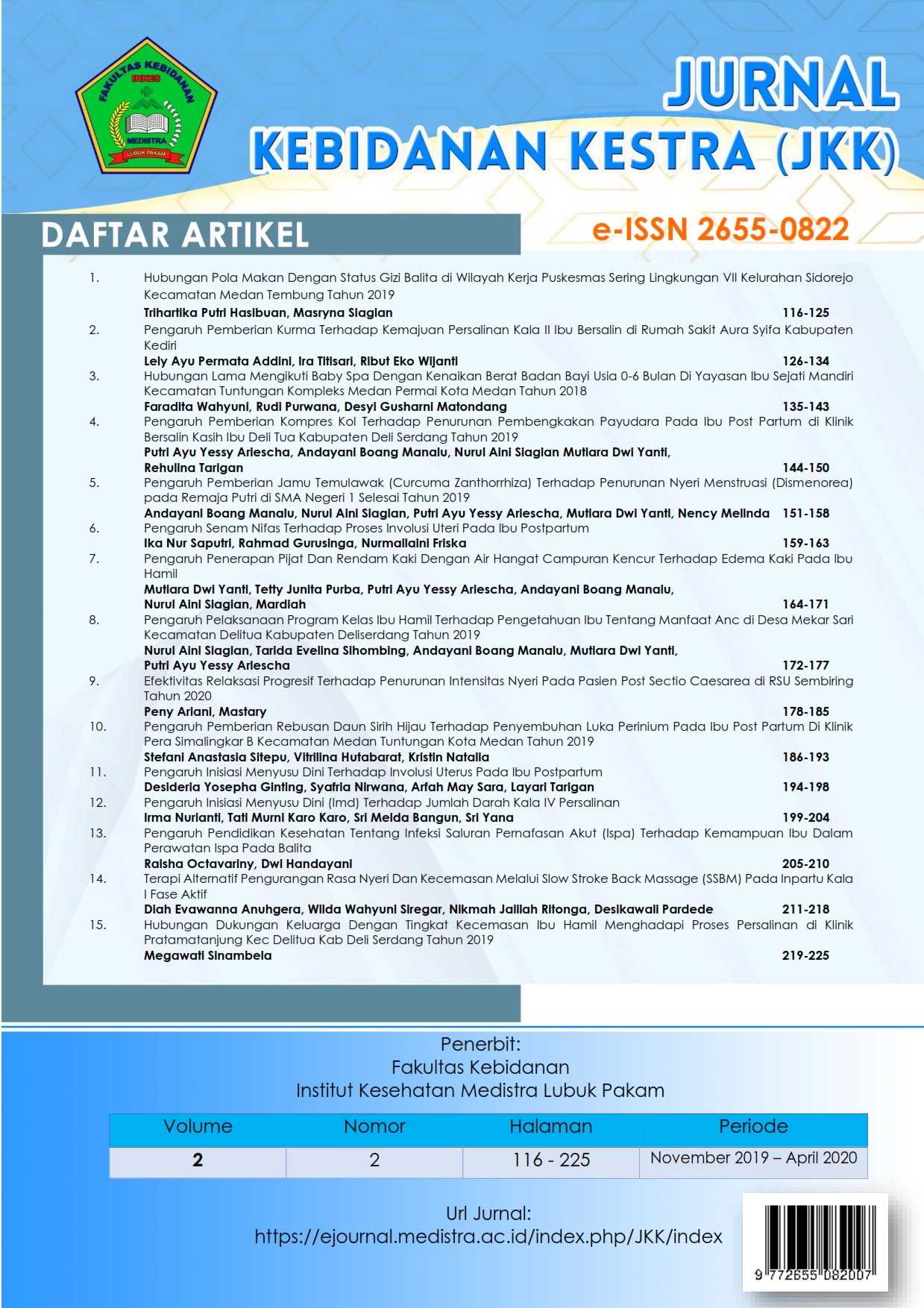 How to Cite
Ayu Permata Addini, L., Titisari, I., & Eko Wijanti, R. (2020). PENGARUH PEMBERIAN KURMA TERHADAP KEMAJUAN PERSALINAN KALA II IBU BERSALIN DI RUMAH SAKIT AURA SYIFA KABUPATEN KEDIRI. JURNAL KEBIDANAN KESTRA (JKK), 2(2), 126-134. https://doi.org/10.35451/jkk.v2i2.340
Copyright in each article is the property of the Author.