Effectiveness Of Giving Biscuits To Increase Body Mass Index (Bmi) And Interpretation Of Fetal Weight In Pregnant Women Chronic Energy Deficiency
Damayanti .

Institut Kesehatan Medistra Lubuk Pakam

Sri Julia Ningsih

Institut Kesehatan Medistra Lubuk Pakam

Tati Murni Karo Karo

Institut Kesehatan Medistra Lubuk Pakam

Siti Sarah Bintang

Institut Kesehatan Medistra Lubuk Pakam
Keywords:
Extra Food, Fetal Weight, Biscuits
Abstract
Supplemental Feeding (PMT) is a program launched by the government to improve the nutrition of pregnant women. The prevalence of pregnant women with chronic energy deficiency problems in developing countries ranges from 15-47% with a BMI of <18.5. The country with the highest prevalence is Bangladesh at 47%. While Indonesia became the fourth largest after India with a prevalence of 35.5%. The purpose of this study is to find out the effect of PMT biscuits on the increase in the body index of pregnant women and the interpretation of fetal weight in pregnant women with chronic energy deficiencies in the working area of Puskemas Sei Suka district Sei Suka Batu Baru District in 2021.
The design of this research is quantitative with an experimental quasi approach. The population in this study is all pregnant women with chronic energy deficiency Sampling techniques use consecutive sampling where the sample is taken if it meets the criteria. Data analysis using Paired Sample T Test analysis
The results of the study obtained a significant influence on the administration of PMT biscuits on the increase in BMI of pregnant women with a value of p = 0.001 and interpretation of fetal weight (IFW) p = 0.0001 had a significant influence (p < 0.05).
From the results of research, the provision of PMT in pregnant women can increase for the mother and the fetus through the interpretation of fetal weight but must be with close supervision, this is due to the attitude of mothers who do not consider the important pattern of weight gain of pregnant women but also there is a sense of boredom in the taste. In the results of the study it can be concluded that the administration of PMT biscuits can improve the welfare of the mother and fetus.
Downloads
Download data is not yet available.
References
Alatiga, C. E. S. (2019) 'P ROGRAM P EMBERIAN M AKANAN T AMBAHAN : S TUDI K ASUS P ADA I BU H AMIL D ENGAN K URANG E NERGI K RONIS D I P USKESMAS', 10(1), pp. 111–115.
Aniek Prihatin (2020) 'PELAKSANAAN DAN EFEKTIVITAS PROGRAM BISKUIT', pp. 25–26.
Chandradewi, A. (2015) 'Pengaruh Pemberian Makanan Tambahan terhadap Berat Badan Ibu Hamil KEK di Wilayah Kerja Puskesmas Labuan Lombok', Jurnal Kesehatan Prima, 9(1), pp. 1391–1402.
Fotiou, E. (2016) 'The Globalization of Ayahuasca Shamanism and the Erasure of Indigenous Shamanism', Anthropology of Consciousness, 27(2), pp. 151–179. doi: 10.1111/anoc.12056.
Gagu, N. (2018) 'FAKTOR – FAKTOR YANG MEMPENGARUHI KEPATUHAN KONSUMSI BISKUIT MAKANAN TAMBAHAN BISKUIT PADA IBU HAMIL DI KOTA PAREPARE SULAWESI SELATAN'.
Insana, S. (2018) 'EFEKTIVITAS PROGRAM PEMBERIAN MAKANAN TAMBAHAN (PMT) PADA IBU HAMIL KEKURANGAN ENERGI KRONIK (KEK) DI WILAYAH KERJA PUSKESMAS ALOSIKA'.
Mamuroh, L., Sukmawati, S. and Widiasih, R. (2019) 'Pengetahuan Ibu Hamil tentang Gizi Selama Kehamilan pada Salah Satu Desa di Kabupaten Garut', Jurnal Ilmiah Keperawatan Sai Betik, 15(1), p. 66. doi: 10.26630/jkep.v15i1.1544.
Nurhidayati (2018) 'HUBUNGAN ASUPAN KALSIUM DENGAN HIPERTENSI DALAM KEHAMILAN DI PUSKESMAS KABUPATEN BANTUL TAHUN 2018'.
Pastuty, R. and Herawati, T. (2018) 'EFEKTIFITAS PROGRAM PEMBERIAN MAKANAN TAMBAHAN- PEMULIHAN PADA IBU HAMIL KURANG ENERGI KRONIK DI KOTA PALEMBANG EFFECTIVENESS THE RECOVERY PROGRAM OF FOOD SUPLEMENT TOWARDS PREGNANCY WOMEN WITH CHRONIC ENERGY DEFICIENCY IN PALEMBANG CITY PE15 Analisis data', 9(November), pp. 179–188.
Rahfiludin, M. Z. and Kartasurya, M. I. (2019) 'Dampak Pemberian Biskuit pada Ibu Hamil Berisiko Kekurangan Energi Kronis terhadap Kadar Hemoglobin', pp. 1–6.
Rianti, E. and Dkk (2017) 'Deviasi Taksiran Berat Janin pada', VIII, pp. 235–239.
Rohmah, L. (2020) 'EVALUASI PROGRAM PEMBERIAN MAKANAN KARANGANYAR KOTA SEMARANG SKRIPSI Diajukan sebagai Salah Satu Syarat untuk Memperoleh Gelar Sarjana Kesehatan Masyarakat Disusun oleh : Laelatul Rohmah JURUSAN ILMU KESEHATAN MASYARAKAT'.
Samiatul, A. (2018) 'Gambaran Pengetahuan Ibu Hamil Tentang Asupan Nutrisi Di Desa Pawindan Kecamatan Ciamis Kabupaten Ciamis', Media Informasi, 14(2), pp. 95–109. doi: 10.37160/bmi.v14i2.211.
Sandra, F., Wahyuni, D. and Syafiq, A. (2012) 'Gizi Ibu Hamil Pada Kelompok Ibu Vegetarian', Gizi Ibu Hamil Pada Kelompok Ibu Vegetarian, 16(1), pp. 29–35.
Setiyowati, N. and Ulvie, Y. N. S. (2019) 'Pengaruh PMT Biskuit Sandwich Terhadap Ibu Hamil Kurang Energi Kronis di Puskesmas Bantarbolang Kabupaten Pemalang', Jurnal Gizi, 8(1), pp. 1–9.
Supriyanto, Y., Paramashanti, B. A. and Astiti, D. (2018) 'Berat badan lahir rendah berhubungan dengan kejadian stunting pada anak usia 6-23 bulan', Jurnal Gizi dan Dietetik Indonesia (Indonesian Journal of Nutrition and Dietetics), 5(1), p. 23. doi: 10.21927/ijnd.2017.5(1).23-30.
Utami, R., Gunawan, I. M. A. and Aritonang, I. (2018) 'Pengaruh Pemberian Makanan Tambahan (PMT) Pemulihan terhadap Status Gizi pada Ibu Hamil di Kabupaten Sleman', Jurnal Nutrisia, 20(1), pp. 19–26. doi: 10.29238/jnutri.v20i1.115.
Zulaidah, H. S., Kandarina, I. and Hakimi, M. (2014) 'Pengaruh pemberian makanan tambahan (PMT) pada ibu hamil terhadap berat lahir bayi', Jurnal Gizi Klinik Indonesia, 11(2), p. 61. doi: 10.22146/ijcn.18998.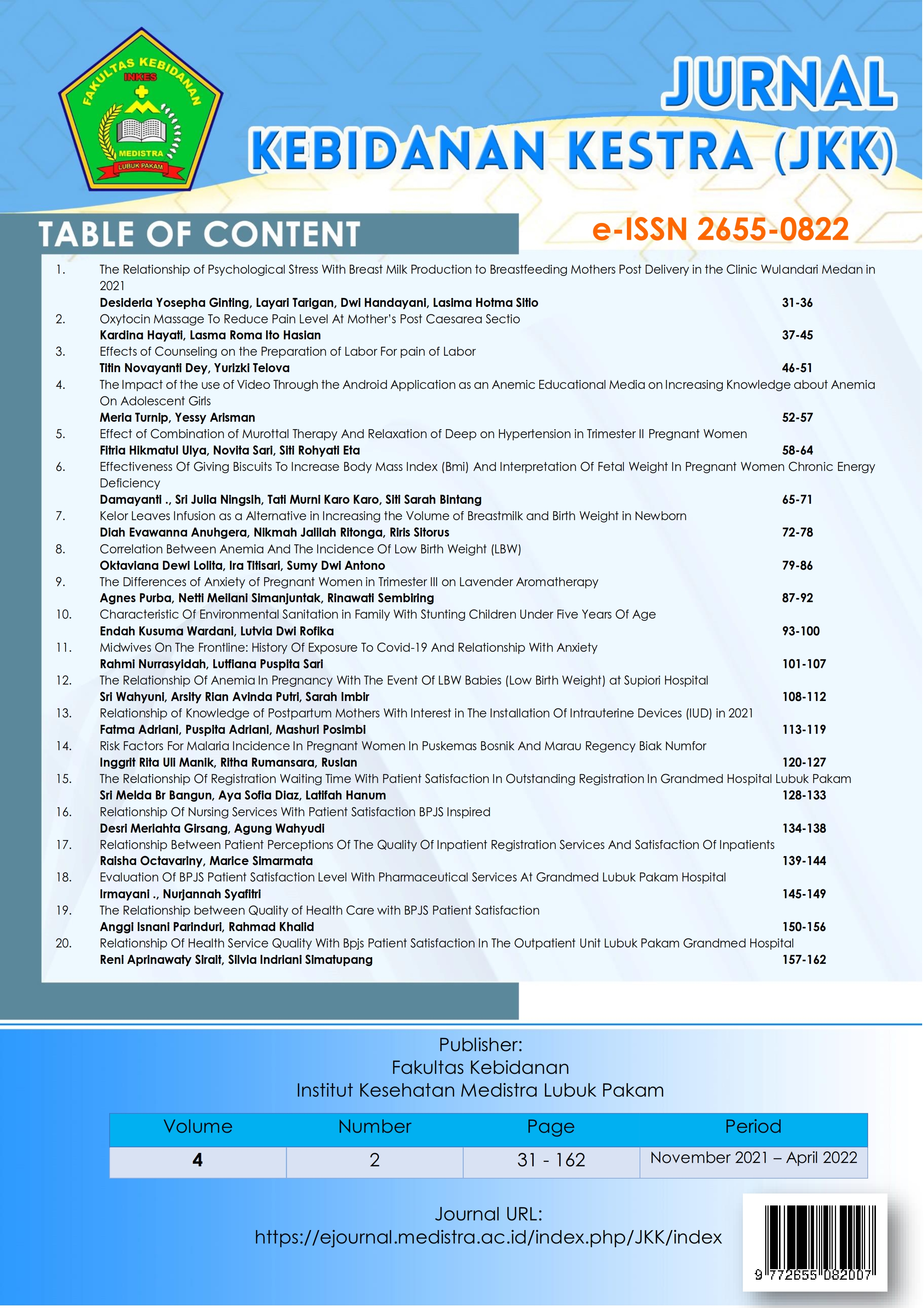 How to Cite
., D., Ningsih, S. J., Karo Karo, T., & Bintang, S. (2022). Effectiveness Of Giving Biscuits To Increase Body Mass Index (Bmi) And Interpretation Of Fetal Weight In Pregnant Women Chronic Energy Deficiency. JURNAL KEBIDANAN KESTRA (JKK), 4(2), 65-71. https://doi.org/10.35451/jkk.v4i2.987
Copyright (c) 2022 Damayanti ., Sri Julia Ningsih, Tati Murni Karo Karo, Siti Sarah Bintang
This work is licensed under a Creative Commons Attribution 4.0 International License.
Copyright in each article is the property of the Author.