The Effect Of Giving Edamame Beans On Breast Milk Production In Post Partum Mothers At The Tanjung Midwife Clinic In East Kisaran City District
Kardina Hayati

Institut Kesehatan Medistra Lubuk Pakam

Tati Murni Karo Karo

Institut Kesehatan Medistra Lubuk Pakam

Rahmad Gurusinga

Institut Kesehatan Medistra Lubuk Pakam

Widya .

Institut Kesehatan Medistra Lubuk Pakam

Latifatul Robbaniyah

Institut Kesehatan Medistra Lubuk Pakam
Keywords:
Edamame Nuts, Breast Milk Production, Postpartum Mother
Abstract
During breastfeeding, mothers are recommended to increase their intake of energy, protein, calcium, iron, folic acid, and other vitamins and minerals to meet the nutritional needs of breastfeeding. In order for mothers to produce 1 liter of breast milk, additional food is needed. Edamame plant is a local food ingredient that has potential for nutrition for nursing mothers, because it contains phytosterol compounds that function to increase and facilitate breast milk production (lactagogum effect). This study aims to see whether there is an effect of giving edamame nuts to breast milk production in postpartum mothers at the Midwife Clinic Putri Tanjung, Kota Kisaran Timur District in 2021. This type of research is a Quasy Experiment Design using the one Group Pretest-Postest Design, with a total sample of 8 person. Data collection uses primary data and secondary data. The data analysis technique is using the Wilcoxon test. Based on the Wilcoxon test, the results showed that post-partum mothers gave edamame nuts pre-test and post-test with a sample of 8 respondents having a P-value (0.008) < 0.05 then H0 was rejected. test and post-test on the administration of edamame nuts on breast milk production in postpartum mothers at the Tanjung Putri Midwife Clinic, East Kisaran City District in 2021. It is recommended for health workers to provide information about giving edamame nuts as an alternative to increase breast milk production for postpartum mothers.
Downloads
Download data is not yet available.
References
Ambarwati E R, dan Wulandari D (2018). Asuhan Kebidanan Nifas. 6th ed. Setiawan A, editor. JOGJAKARTA: Nuha Medika; 17 p.
Ariyantini MD, Fauzi M, Jayus. (2017). Inaktivasi Enzim Protease Pada Puree Edamame (Glycine max). Jurnal Agroteknologi, Vol. 11 No. 02. J Agroteknologi [Internet]. 2017;11(02):164. https://jurnal.unej.ac.id/index.php/JAGT/article/download/6525/4744/
Fauzia S, Pangestuti D, Widajanti L. (2016). Hubungan Keberagaman Jenis Makanan dan Kecukupan Gizi dengan Indeks Massa Tubuh (IMT) Pada Ibu Menyusui di Wilayah Kerja Puskesmas Kedungmundu Kota Semarang Tahun 2016. Jurnal Kesehatan Masyarakat.;4(3):235.
Febriani Ade, Nova Yulita sellia juwita.(2020). Efektivitas Pemberiamn Soybean ( Glycine Max ) Dalam Peningkatan ASI Ibu Menyusui Di Wilayah Kerja Puskesmas Kota Pekanbaru penyakit infeksi , bakteri , virus , parasit , serta jamur . ASI dapat Pendahuluan Salah satu indikator untuk mengetahui status kes.;4(2):113.
F.B.Monica.(2014). Buku Pintar ASI dan Menyusui. Kiki Sulistiyani, Noviyanti Utaminingsih, Aniza Pujiati, Widasartika ETG, editor. Jakarta Selatan.
Lexy J. Moleong. (2005). Metodologi Penelitian Kualitatif (Bandung: PT. Remaja Rosdakarya.
Pambudi S (2017). Budidaya & Khasiat Kedelai Edamame. Flo, editor. Yogyakarta.
Safitri, Rani.(2018). Pengaruh Pemberian Edamame (Glycin max (L) merrill) Terhadap Produksi Asi Pada Ibu Nifas Primipara Di Bpm Dillah Sobirin Kecamatan Pakis Kabupaten Malang. J Issues Midwifery.;2(3):41.
Istiqomah SBT, Dewi Triloka Wulanadari NA. (2015). Pengaruh Buah Pepaya Terhadap Kelancaran Produksi ASI Pada Ibu Menyusui Di Desa Wonokerto Wilayah Puskesmas Peterongan Jombang Tahun 2014. J EDU Heal ;5(2):103.
Istianingsih A. (2018). Hubungan Breastfeeding Self-Efficacy dengan Pemberian ASI Eksklusif di Wilayah Puskesmas Air Dingin Kota Padang Tahun 2018.Thesis, Univ Andalas. 2018;2.
Wulan R, Tjahyani T, Herlina N, Suminarti E. (2015). Kedelai Edamame ( Glycine max ( L .) Merr .) Pada Berbagai Macam Dan Waktu Aplikaish Pestisida The Response Kind And Time Applications Of Pesticides On Growth And Yield Of Edamame ( Glycine max ( L .) Merr .). J produksi Tanam.
W V. Fetrisia, Wiwit. (2020). Effect Of Edamame (Glycine Max L. Merill) On Breast Milk Volume In Postpartum Mothers. Blossom, 1.1: 30-36. 2020;1:30–6.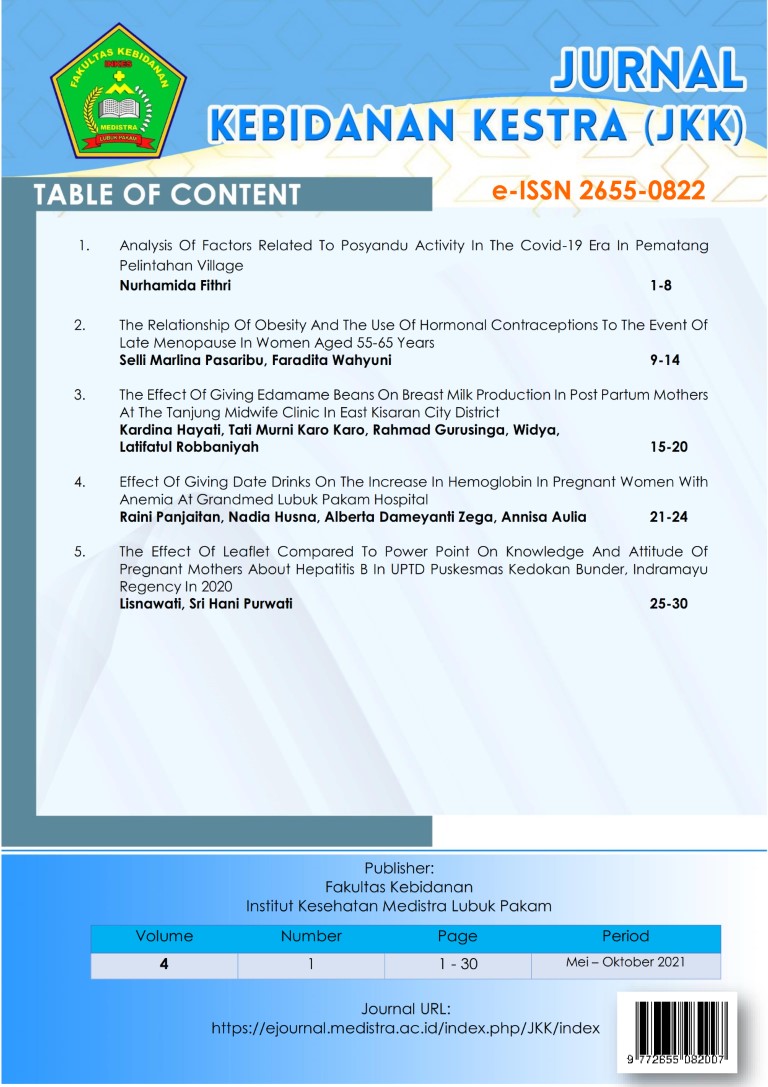 How to Cite
Hayati, K., Karo Karo, T., Gurusinga, R., ., W., & Robbaniyah, L. (2021). The Effect Of Giving Edamame Beans On Breast Milk Production In Post Partum Mothers At The Tanjung Midwife Clinic In East Kisaran City District. JURNAL KEBIDANAN KESTRA (JKK), 4(1), 15-20. https://doi.org/10.35451/jkk.v4i1.813
Copyright (c) 2021 Kardina Hayati, Tati Murni Karo Karo, Rahmad Gurusinga, Widya ., Latifatul Robbaniyah
This work is licensed under a Creative Commons Attribution 4.0 International License.
Copyright in each article is the property of the Author.