FACTORS RELATED TO SUBJECTIVE COMPLAINTS DUE TO HEAT EXPOSURE WORKERS FOR BRICK-MAKING IN SIDOURIP VILLAGE
Rosita Ginting

Institut Kesehatan Medistra Lubuk Pakam

Pirgahayu .

Institut Kesehatan Medistra Lubuk Pakam
Keywords:
Subjective Complaints, Heat Exposure, Bricks Workers
Abstract
Humans have a limited ability to maintain body temperature in the surrounding environment. Activities at high or even extreme temperatures can have an impact, both in terms of economy and occupational safety and health. Workers can experience fatigue due to the work climate with high temperatures. The purpose of this study is to explain the factors associated with subjective complaints due to heat exposure to workers in the brick-making kitchen in Sidourip Village. This research is a quantitative research with an analytical survey approach using a cross sectional design. This research was conducted in Sidourip Village, Pagar Merbau District, Deli Serdang Regency. All brick-making workers in the kitchen were used as the population in this study. The sample in the study was 30 brick-making workers in the kitchen who were drawn by the total sampling technique. Data were collected using primary and secondary data. Data were collected using primary data and secondary data and then analyzed using the chi square test with a 95% confidence level (alpha = 5%). The results showed that there was a significant relationship between age, tenure, length of work and exposure to heat with subjective complaints and length of rest had no relationship with subjective complaints of brick-making kitchen workers in Siduorip Village. It is suggested to the refinery owner to take preventive action to reduce subjective complaints felt during work.
Downloads
Download data is not yet available.
References
Alam, A. (2016). Factors Related to Subjective Complaint of Heat Pressures in Employees Basement Mtc Karebosi Makassar. International Refereed Journal of Engineering and Science (IRJES).Volume 3: hal 49-54.
Anjani, S. dkk. (2013). Faktor-Faktor Yang Berhubungan Dengan Keluhan Subyektif Pada Pekerja Yang Terpajan Tekanan Panas (Heat Stress) Di Pengasapan Ikan Industri Rumah Tangga Kelurahan Ketapang Kecamatan Kendal. Skripsi. Universitas Dian Nuswantoro.
Fajrin, N. (2014).Faktor yang Berhubungan dengan Keluhan Kesehatan Akibat Tekanan Panas pada Pekerja Instalasi Laundry Rumah Sakit di Kota Makassar Tahun 2014. Makassar: Jurnal Fakultas Kesehatan Masyarakat Universitas Hasanuddin: 1-11.
Guyton. (2016). Fisiologi Manusia dan Mekanisme Penyakit, Edisi Revisi. Jakarta: Penerbit Buku Kedokteran EGC.
Margarehta, dkk. (2019). Pengaruh Tekanan Panas terhadap Kelelahan Kerja.GEMA Lingkungan Kesehatan.Volume 17. No. 2
Maulidiani. (2012). Gambaran Keluhan Subjektif Pekerja Akibat Tekanan Panas di Area Peleburan, Proses Sekunder dan Pengecoran Slab Steel Plant (SSP) PT Krakatau Steel Cilegon, Banten tahun 2012. Skripsi.http:// http://lib.ui.ac.id/naskahringkas di akses 14 Januari2017.
Padesi, Y. (2017). Hubungan Konsumsi Air Minum Dengan Keluhan Subyektif Akibat Paparan Panas Pada Pekerja Bagian Dapur Pembuatan Batu Bata Di Desa Karang Anyar Tahun 2017.Skripsi.http://repositori.usu.ac.id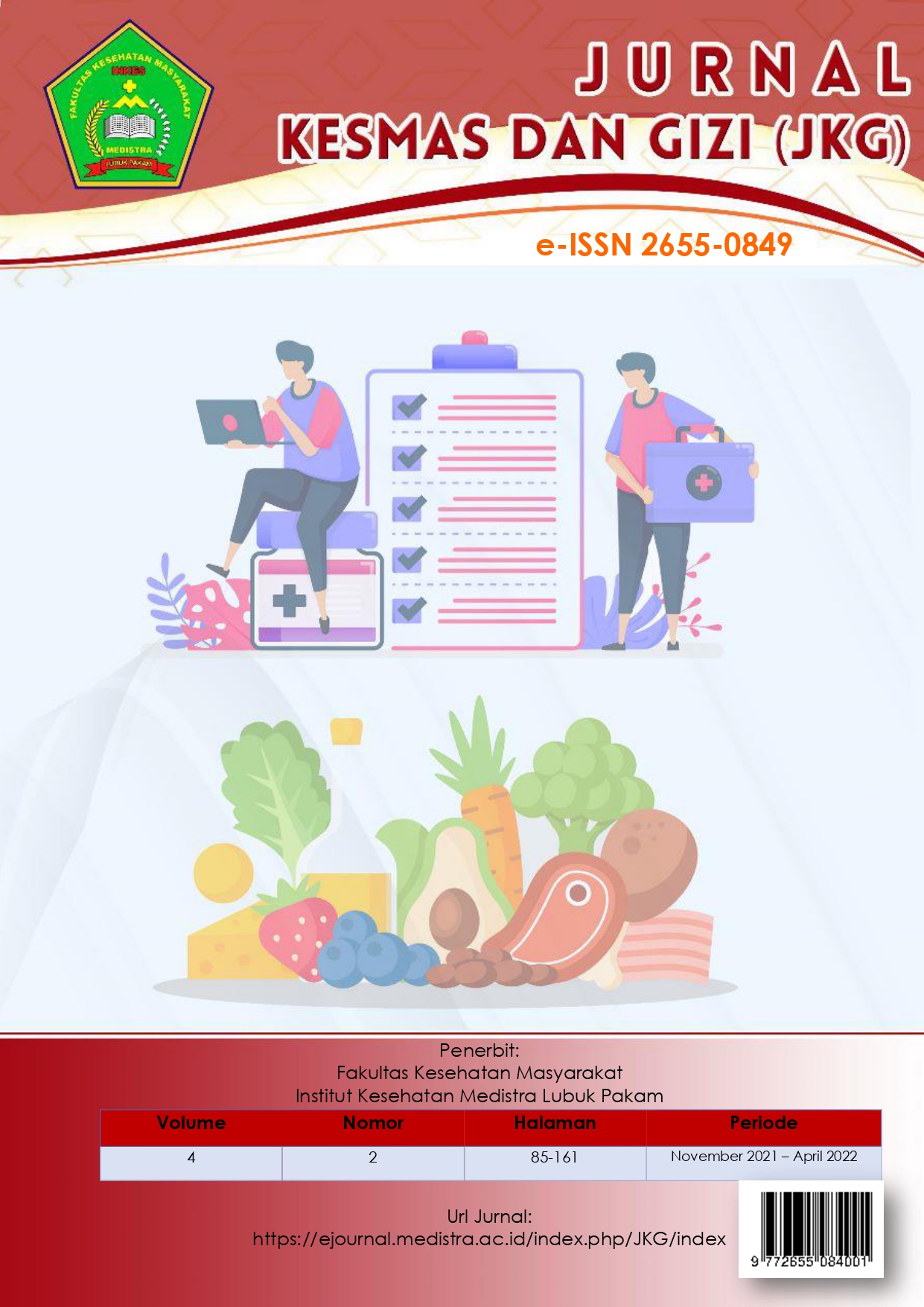 How to Cite
Ginting, R., & ., P. (2022). FACTORS RELATED TO SUBJECTIVE COMPLAINTS DUE TO HEAT EXPOSURE WORKERS FOR BRICK-MAKING IN SIDOURIP VILLAGE. JURNAL KESMAS DAN GIZI (JKG), 4(2), 96-101. https://doi.org/10.35451/jkg.v4i2.1062
Copyright (c) 2022 Rosita Ginting, Pirgahayu .
This work is licensed under a Creative Commons Attribution-NonCommercial-ShareAlike 4.0 International License.
Copyright in each article is the property of the Author.