METODE JOB SAFETY ANALYSIS DALAM PENGENDALIAN RESIKO KERJA DI PT. JAKARANA TAMA CABANG MEDAN
Keywords:
JSA, Control,, Work risk
Abstract
The progress of formal industry is accompanied by the use of technology used in the production process that has a risk of harm to aspects of occupational safety and health as well as the work environment. Therefore, Job Safety Analysis (JSA) which is one of the risk management that needs to be applied to determine the risks of hazards in the work environment so that appropriate control measures can be taken. This research is a qualitative research that aims to explore a problem with detailed limitations, as well as in-depth data collection. The number of informants in this study were 7 people. Data collection was carried out using work safety job analysis worksheets and in-depth interviews equipped with voice recording devices for 7 informants. The results of research carried out there are potential dangers that still need attention and control. From several stages of the production process that is usually done at PT. Jakarana Tama Medan Branch the process of conveying and mixing, continuous rolling, steaming, cutting, friying michine, cooling, and packing. The risks of accidents and occupational diseases that occur to workers are divided into two parts, including physical and psychological. Physical risks include falling, slipping, being shocked, pinched, burns, hearing loss, respiratory distress, complaints of muscle aches. and psychological risks in the form of work stress or discomfort. Factors causing it can occur due to unsafe actions and unsafe conditions. The advice that can be given is that supervision of the work process must be further improved so that workers do not do things that deviate from the provisions that have been applied, provide sanctions for workers who break the rules, and equip personal protective equipment in each division according to the type of work.
Downloads
Download data is not yet available.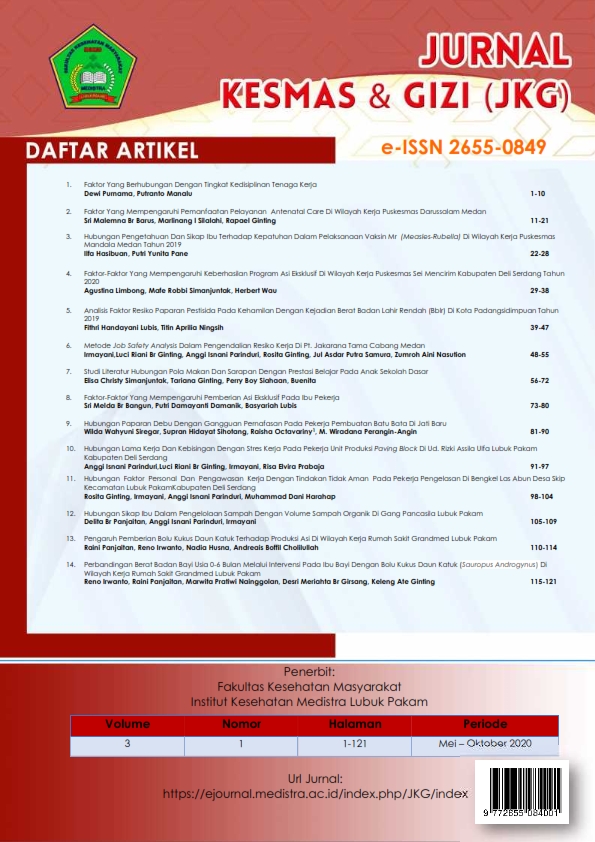 Downloads
How to Cite
Irmayani, I., Ginting, L. B., Parinduri, A. I., Ginting, R., Putra Samura, J. A., & Nasution, Z. A. (2020). METODE JOB SAFETY ANALYSIS DALAM PENGENDALIAN RESIKO KERJA DI PT. JAKARANA TAMA CABANG MEDAN. JURNAL KESMAS DAN GIZI (JKG), 3(1), 48–55. https://doi.org/10.35451/jkg.v3i1.480
License
Copyright in each article is the property of the Author.