FAKTOR-FAKTOR YANG MEMPENGARUHI PERGAULAN BEBAS PADA REMAJA DI SMK SWASTA JAYA KRAMA BERINGIN KECAMATAN BERINGIN KABUPATEN DELI SERDANG
Rosita Ginting

Institut Kesehatan Medistra Lubuk Pakam

Desideria Yosepha Ginting

Institut Kesehatan Medistra Lubuk Pakam

Irmayani ,

Institut Kesehatan Medistra Lubuk Pakam
Keywords:
free sex, Adolescent
Abstract
The emergence of promiscuity among young people who are rife lately is inseparable from the influence of the globalization era which is considered a form of modernity for some adolescents, which ultimately brings them closer to promiscuity who are at risk of being infected with various kinds of socially transmitted diseases. which affects promiscuity in adolescents in the Jaya Krama Beringin Private Vocational School Sidodadi Village, Beringin District, Deli Serdang Regency. The research method used was analytic survey, with cross sectional approach. The sampling technique used was purposive sampling. Samples are taken based on specified criteria. Data analysis was performed bivariately with chi-square test with a value of α (0.05). The results showed that social factors and technological factors / mass media are factors that influence the incidence of free association in adolescents in the Jaya Krama Beringin Private Vocational School with each value of p = 0.02 <α = 0.05 and p value = 0.002 < α = 0.05. The importance of improving education, coaching and monitoring students in the use of technology to students so as to avoid promiscuity.
Downloads
Download data is not yet available.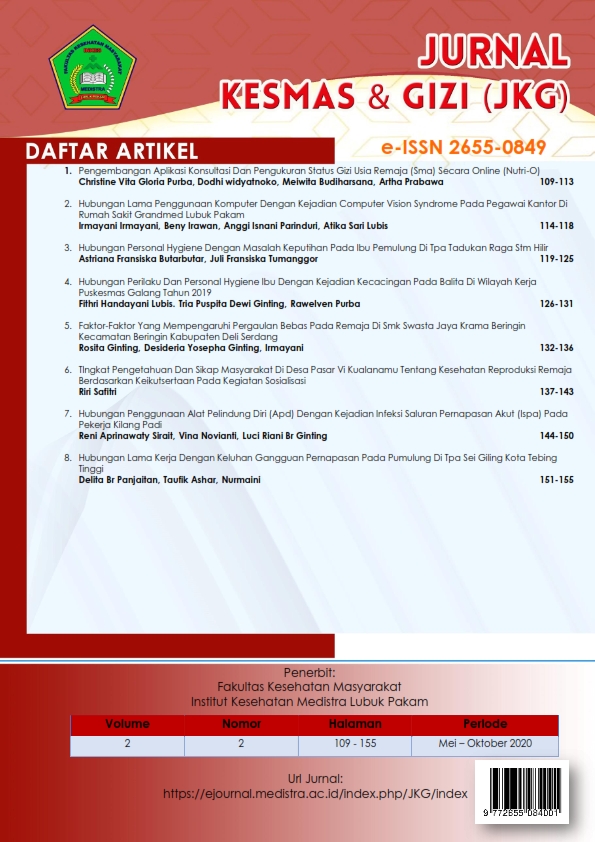 How to Cite
Ginting, R., Ginting, D., & , I. (2020). FAKTOR-FAKTOR YANG MEMPENGARUHI PERGAULAN BEBAS PADA REMAJA DI SMK SWASTA JAYA KRAMA BERINGIN KECAMATAN BERINGIN KABUPATEN DELI SERDANG. JURNAL KESMAS DAN GIZI (JKG), 2(2), 132-136. https://doi.org/10.35451/jkg.v2i2.400
Copyright in each article is the property of the Author.