HUBUNGAN LAMA PENGGUNAAN KOMPUTER DENGAN KEJADIAN COMPUTER VISION SYNDROME PADA PEGAWAI KANTOR DI RUMAH SAKIT GRANDMED LUBUK PAKAM
Irmayani Irmayani

Institut Kesehatan Medistra Lubuk Pakam

Beny Irawan

Institut Kesehatan Medistra Lubuk Pakam

Anggi Isnani Parinduri

Institut Kesehatan Medistra Lubuk Pakam

Atika Sari Lubis

Institut Kesehatan Medistra Lubuk Pakam
Keywords:
Computer use, computer vision syndrome
Abstract
The use of computers increases continuously over time. The average work time used to work with a computer is 5.8 hours or 69% of the total 8 working hours. Computers that are now widely used as assistive devices can actually cause occupational diseases or health problems. One of them is eye disorders due to continuous use of the eye to stare at a computer monitor or Visual Display Terminal (VDT). This study aims to explain the relationship long use of computers with events computer vision syndrome . This research is a quantitative study with using analytic survey approach with cross sectional design. The population of the research this is the whole employees of offices that exist in Grandmed Hospital Lubuk Pakam. The number of samples taken 36 employees with sampling techniques using total sampling. The collection of data is done by using a questionnaire. Statistical tests using the chi square test with α = 0.05. The analysis shows that there is a correlation long usege of computer with events computer vision syndrome In employee health BPJS in Grandmed Hospital Lubuk Pakam (p = 0.004 <α = 0.05) . Suggested to employees of offices if already started to feel fatigue in the eyes and the eyes feel strained should rest and using methods of 20-20-20 is for using the computer in 20 minutes should rest for 20 seconds to switch the view that is within 20 feet to avoid the eyes dry and cause the symptoms are more severe.
Downloads
Download data is not yet available.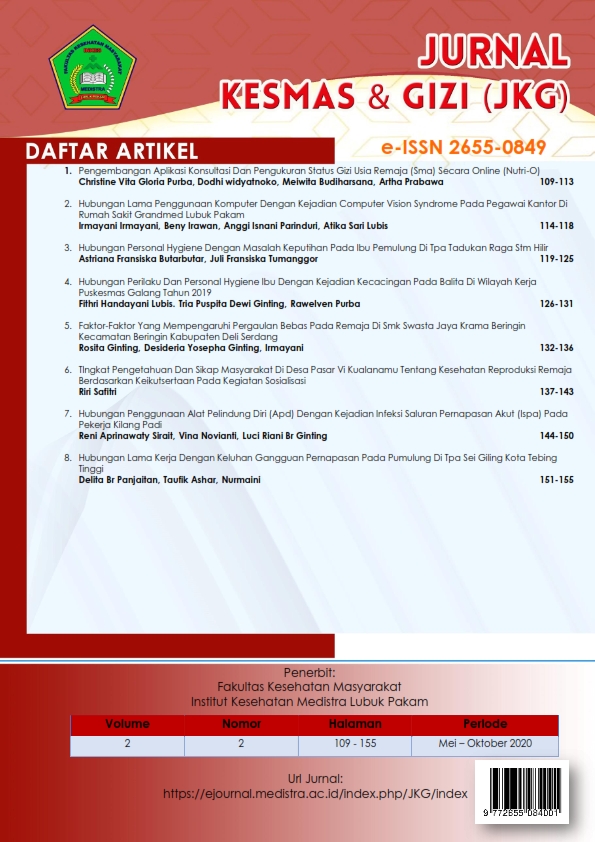 How to Cite
Irmayani, I., Irawan, B., Parinduri, A., & Lubis, A. (2020). HUBUNGAN LAMA PENGGUNAAN KOMPUTER DENGAN KEJADIAN COMPUTER VISION SYNDROME PADA PEGAWAI KANTOR DI RUMAH SAKIT GRANDMED LUBUK PAKAM. JURNAL KESMAS DAN GIZI (JKG), 2(2), 114-118. https://doi.org/10.35451/jkg.v2i2.393
Copyright in each article is the property of the Author.