PENGARUH MENGKONSUMSI AIR HANGAT SEBELUM PEMBERIAN NEBULIZER TERHADAP PENINGKATAN KELANCARAN JALAN NAPAS PADA PASIEN ASMA BRONKIAL
Rahmad Gurusinga

Institut Kesehatan Medistra Lubuk Pakam

https://orcid.org/0000-0002-3747-1426

Fredy Kalvin Tarigan

Institut Kesehatan Medistra Lubuk Pakam

Ruth Margaretha Sitanggang

Institut Kesehatan Medistra Lubuk Pakam
Keywords:
Warm drinking water, smooth airway, bronchial asthma
Abstract
Warm drinking water is one of the non-pharmacological therapies that can have an oxygenation effect on the body, especially in the respiratory organs so that it can help clear the airway in bronchial asthma patients who experience respiratory problems due to obstruction or other trigger factors such as allergic reactions, viral infections, and air pollution. Warm drinking water is the right therapy for bronchial asthma patients because by drinking warm water the particles trigger tightness and the liquid or mucus in the bronchioles will be broken down. Nebulizer is one of the inhalations with the administration of drugs in the form of steam that is given through inhalation, the nebulizer can help provide relaxation to help loosen breathing in bronchial asthma patients. This goal is to see the smoothness of the airway before and after in the two groups with treatment treatment in the intervention group and not giving treatment to the control group. The population in this study were bronchial asthma patients who were treated at the Grandmed Lubuk Pakam Hospital. The results of the study with the Paired Sample statistical test t-test design of airway smoothness in the intervention group value (p value = 0.000 <α = 0.05), while in the control group the value (p value = 0.920> α = 0.05) was obtained. The conclusion of this study is that consuming warm water before offering a nebulizer to bronchial asthma patients can help smoothen the patient's airway
Downloads
Download data is not yet available.
References
Guyton, A.C., & Hall, J.E. (2006). Buku Ajar Fisiologi Kedokteran (edisi 9). Jakarta: EGC.
Hardina sri, Septiyanti & Wulandari Dwi (2019). Pengaruh konsumsi air hangat terhadap frekuensi nafas pada pasien asma di Puskesmas Sukamerindu Kota Bengkulu. Journal of Nursing and Public Health Vol. 7 No.2.
Junaidi, Iskandar. (2010). Penyakit Paru Dan Saluran Napas. Jakarta:Bhuana Ilmu Poupuler.
Marice. (2010). Faktor-Faktor Yang Berhubungan Dengan Penyakit Asma Di Indonesia. Media Litbang Kesehatan Volume XX Nomor 1.
Muhammad, As'adi. (2012). Kedahsyatan Air Putih Untuk Ragam Terapi Kesehatan. Yogyakarta: DIVA Press.
Notoatmodjo. (2012). Metodologi Penelitian Kesehatan. Jakarta: PT. Rineka Cipta.
Price, S.A., dan Wilson, L. M., (2005). Patofisiologi: Konsep Klinis Prosesproses Penyakit, Edisi 6, Vol. 2, diterjemahkan oleh Pendit, B. U.,
Hartanto, H., Wulansari, p., Mahanani, D. A.,Penerbit Buku Kedokteran EGC, Jakarta
Riskesdas. (2013). Badan Penelitian dan Pengembangan Kesehatan. Kementrian Kesehatan RI Tahun 2013. Available : http://www.depkes.go.id/resources/ download/general/hasil%Riskesdas %202013.pdf (12 Maret 2017).
Somantri, Irman. (2009). Asuhan Keperawatan Pada Klien Dengan GangguanSistem Pernapasan. Edisi 2. Jakarta : Salemba Medika.
WHO. (2013). Media Centre Asthma. Available: http://www.who.int/mediacentre/fa ctsheets/fs307/en/ (12 Maret 2017).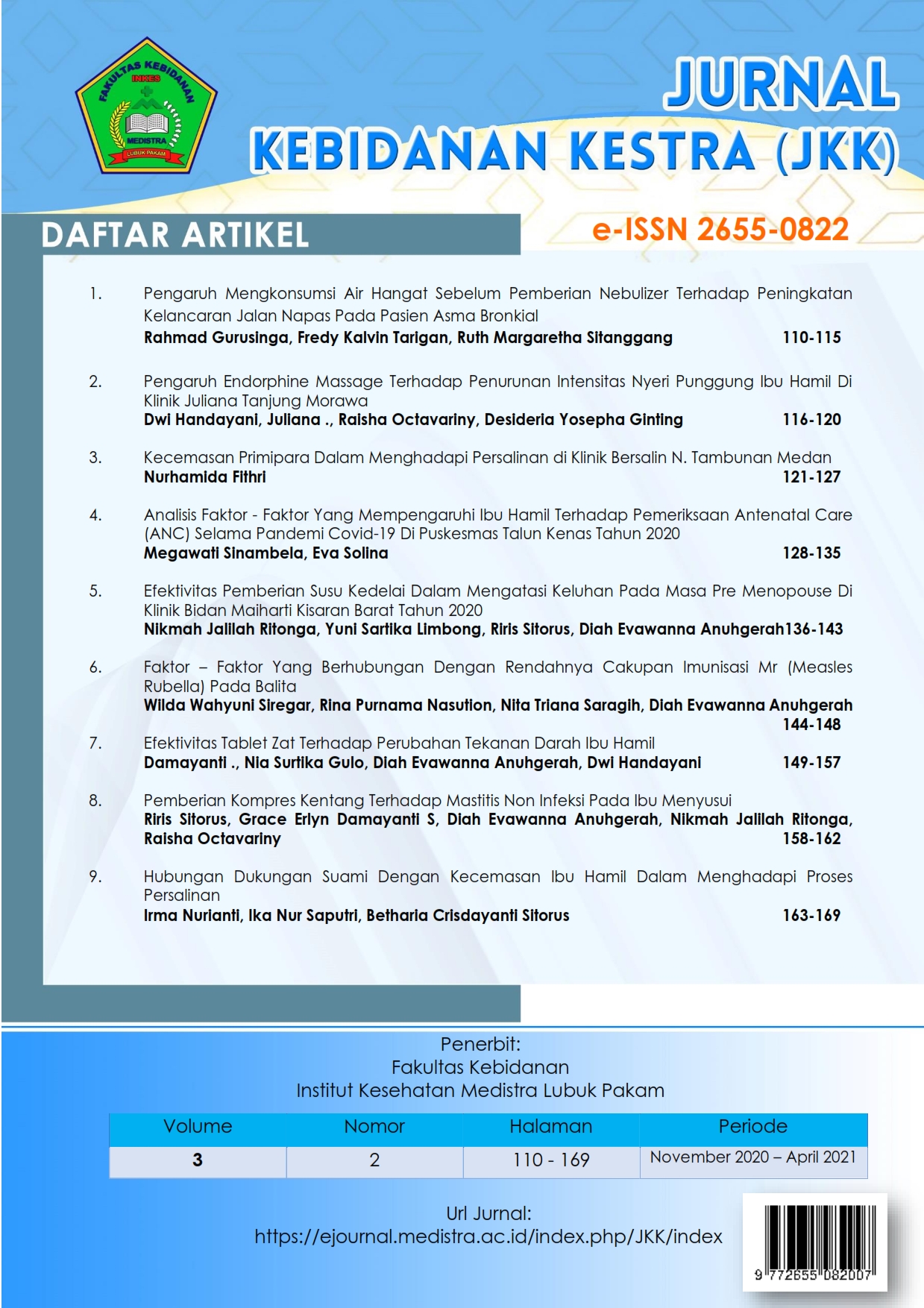 How to Cite
Gurusinga, R., Tarigan, F., & Sitanggang, R. M. (2021). PENGARUH MENGKONSUMSI AIR HANGAT SEBELUM PEMBERIAN NEBULIZER TERHADAP PENINGKATAN KELANCARAN JALAN NAPAS PADA PASIEN ASMA BRONKIAL. JURNAL KEBIDANAN KESTRA (JKK), 3(2), 110-115. https://doi.org/10.35451/jkk.v3i2.645
Copyright (c) 2021 Rahmad Gurusinga, Fredy Kalvin Tarigan, Ruth Margaretha Sitanggang
This work is licensed under a Creative Commons Attribution 4.0 International License.
Copyright in each article is the property of the Author.